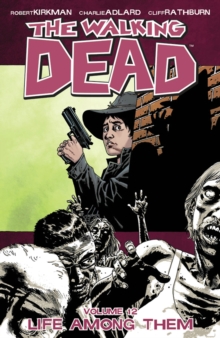 The Walking Dead Volume 12 : Life Among Them
Paperback
Description
The world we knew is gone. The world of commerce andfrivolous necessity has been replaced by a world of survival and responsibility. An epidemic of apocalyptic proportions has swept the globe, causing the dead torise and feed on the living.
In a matter of months society has crumbled: nogovernment, no grocery stores, no mail delivery, no cable TV.
In a world ruledby the dead, the survivors are forced to finally start living.At long last, the survivors of Robert Kirkman and Charlie Adlard's acclaimedpost-apocalyptic survival adventure find the hope they've longed look for.
Can atown not yet ravaged by the horrors unleashed on Earth possibly be all it'shoped for?
Is there a far more sinister secret behind their newfound safe haven?Even worse, can people forever changed by the worst in humanity ever hope to getback to their old selves?
The next chapter of The Walking Dead is primedto change everything!Reprint Edition
Information
Format: Paperback
Pages: 144 pages
Publisher: Image Comics
Publication Date: 03/08/2010
Category: Comics and Graphic Novels
ISBN: 9781607062547
Free Home Delivery
on all orders
Pick up orders
from local bookshops
Reviews
Showing 1 - 5 of 11 reviews.
Previous | Next
Review by titania86
16/06/2015
*** Spoilers for those who aren't caught up with the series!! ***Rick Grimes and his band of survivors are on the move again. In the last book, they encountered cannibals and horrible things had to be done to ensure their safety. Carl, Rick's son, is dealing with the aftermath of killing Billy, another child who was a great danger to the whole group. The group encounters a lone man on the road named Aaron, who wants them to come with him and live in his safe haven. Rick is immediately suspicious. In the past, another group claimed something similar and it ended very badly. The rest of the group is more enthused to have a stable place to stay and find the newcomer to be trustworthy. They go to this safe haven and find a stable community, headed by an ex-Senator. Everything seems a little too perfect to Rick. Plus they seem to have no safeguards against other human attackers. Is Rick just being paranoid or there really something nefarious going on in this community? Can these survivors who have seen so many horrors integrate back into normal society?The Walking Dead is an excellent series. This is one in the series that is more a precursor to and setting up of events to come. Action wise, not much happens in this one. However, many important issues are brought up and there is more character development than anything else. The relationship between Rick and his son Carl is especially interesting to me. Carl isn't a hardened killer, even though he has killed countless zombies. He is still emotionally affected by his first human murder, but he holds it together because it's needed for the survival of the group. Rick understands Carl's decision, but wishes he didn't have to do things like this. He, after all, is still a child.The other big event of this narrative is the invitation to live in the safe haven. Rick is immediately on his guard and thinks it's too good to be true. The others start out as accepting, but grow to be more and more suspicious. This situation is the most like life before the zombie apocalypse than anything they have experienced since. Will the survivors ever be able to integrate into a society such as this one? They have been fighting for survival for about two years. Many of their problems have come from humans, such as the cannibals from the last one and the sadistic governor. Events like these take a toll on them and make them into different people.Although not the most action packed book in the series, I enjoyed the emotional and psychological implications presented. Something big is going to be happening in the next book and I can't wait to read it!
Review by stephmo
16/06/2015
For the last few trades, I've been wanting a book where the survivors just get to take off a few weeks from their endless grind of survival and just, oh, get a day of picnicking and touch football and scrabble tournaments. You know - the good old days! Damn that Robert Kirkland for nearly giving me exactly what I want and then explaining how the zombiepocolypse ruins <i>everything</i>. Again, another excellent entry. This episode is all about the idea of finding that ultimate version of rebuilt civilization and society after putting your time in the trenches. Only problem? You've been through a lot. A. LOT. The undead. The unchecked evil of humanity. The horrible choices of survival in an inhuman world. How does one simply turn a switch and go back into full trust mode again? How do you pretend that you can have cocktail parties and read trash novels and chit-chat about lawn care? Can you really trust? (Yes, I'm asking that twice.) We get no answers, but Kirkland offers up the next question beyond, "can I survive?" Which is, "what does this rebuilding society look like and how do I know when I'm there?"
Review by suzemo
16/06/2015
Our intrepid heroes finally find salvation and rest... or do they? Cheesy though it may sound, our little band of zombie-warriors find a safe haven - some place safe and secure from the zombies where they can have a meal, walk the dog, and throw dinner parties. The question is - will they be welcome, and how will they fare while they are there.<br/><br/>It has less of the gore, more of the reality of living in a zombie infested country (even with them everywhere, I wouldn't think every waking moment is spent chopping off heads), and a deeper look into how the horror has shaped people.
Review by akmargie
16/06/2015
This is one of those placeholder volumes. This is the calm before the storm. It should tell you something about where this series is when three deaths constitutes "calm." But since Rick and the gang are getting all settled in and relaxed you just know it's going all blow up next volume.
Review by Nialle
16/06/2015
This is rapidly turning into "Lost" without the character depth or closure.