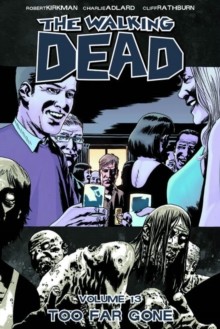 The Walking Dead Volume 13 : Too Far Gone
Paperback
Description
The world we knew is gone. The world of commerce andfrivolous necessity has been replaced by a world of survival and responsibility. An epidemic of apocalyptic proportions has swept the globe, causing the dead torise and feed on the living.
In a matter of months society has crumbled: nogovernment, no grocery stores, no mail delivery, no cable TV.
In a world ruledby the dead, the survivors are forced to finally start living.In this chapter of Robert Kirkman and Charlie Adlard's New York Times BestSeller, life in the community is as near as Rick and his group can ever hope tocome to life returning to normal.
So why is Rick so on edge? Will his behaviorspell doom for everyone else? Will they let it get that far? Collects issues73-78 of the Eisner Award winning survival horror adventure.Reprint Edition
Information
Format: Paperback
Pages: 136 pages
Publisher: Image Comics
Publication Date: 23/11/2010
Category: Horror & ghost stories
ISBN: 9781607063292
Free Home Delivery
on all orders
Pick up orders
from local bookshops
Reviews
Showing 1 - 5 of 7 reviews.
Previous | Next
Review by bookwormteri
16/06/2015
Love the series. It does make me paranoid for all these people. Any new characters that are introduced, I think that I trust new people less than the actual characters do. I am constantly waiting for the other shoe to drop and find out what is going to happen. That is the beauty of this series though. With all the horrors up walking around and trying to eat you, it is man that you should fear. Just beautiful and epic.
Review by suzemo
16/06/2015
Our beloved zombie warriors are living in a relatively safe enclave, struggling to come to terms with living a "normal" life. They have to come to terms with living in a different space than they are used to, and living with people they have to decide to trust (and who must decide whether or not to trust them as well).
Review by clark.hallman
16/06/2015
The Walking Dead, Volume 13, Too Far Gone by Robert Kirkman, Charlie Adlard, Cliff Rathburn and others, will please those Waking Dead fans that need a fix of violence and terror that Volume 12 lacked. This installment portrays a frightened and barely civilized community where violence erupts from within the walls and from outside the walls. Rick struggles with his own demons while trying to prevent the community from exploding. However, it is impossible to contain a savage environment without savage actions. Too Far Gone is an excellent addition to the Walking Dead series.
Review by norabelle414
16/06/2015
The survivors learn more about their commune in Northern Virginia. They start to find their roles in the new society, and teach the established residents what they have learned from two years out among the walkers.This volume was pretty quiet. You know what that means! I want to believe that there's nothing wrong with this community, but you can never be sure.
Review by KittyBimble
27/08/2015
The story has slowed a bit in this volume, The Community is becoming a bit of a snooze fest. There is a lot of soap opera style interactions going on, some of the dialogue is cliché and cringeworthy. I am missing reading the earlier volumes where crazy stuff used to happen all the time. I don't really want Rick's group to find safety because that's when it gets boring. I want them to struggle, I hated this whole playing happy families story arc. Not enough zombie action!