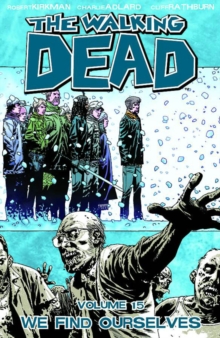 The Walking Dead Volume 15 : We Find Ourselves
Paperback
Description
The world we knew is gone. The world of commerce andfrivolous necessity has been replaced by a world of survival and responsibility. An epidemic of apocalyptic proportions has swept the globe, causing the dead torise and feed on the living.
In a matter of months society has crumbled: nogovernment, no grocery stores, no mail delivery, no cable TV.
In a world ruledby the dead, the survivors are forced to finally start living.The events of No Way Out have affected everyone in the Community, andnot everyone has survived to pick up the pieces.Reprinting issues #85-90 of the Eisner Award-winning series, The WalkingDead.Reprint Edition
Information
Format: Paperback
Pages: 132 pages
Publisher: Image Comics
Publication Date: 27/12/2011
Category: Horror & ghost stories
ISBN: 9781607064404
Free Home Delivery
on all orders
Pick up orders
from local bookshops
Reviews
Showing 1 - 5 of 7 reviews.
Previous | Next
Review by DeltaQueen50
16/06/2015
After 15 volumes there isn't much new to say about the Walking Dead Graphic series. In this volume there is a shift from Rick's previous stance of keeping his group separate and apart from others. In the aftermath of the last zombie battle, he is now trying to pull together with the other residents of the community to create a place of safety with the long term goal of re-establishing an organized civilization. I am a little concerned with the direction that the story is taking as I fear it could become more of a character drive soap opera than an action packed adventure. But I am still interested in the characters and hopefully another crisis or conflict will arise that will keep the series from becoming stagnant.
Review by suzemo
16/06/2015
Rick and Co are coming to terms with what happened in the previous volume, plus dealing with more of the usual zombie-soap-opera stuff. It's a little slower and I started to get a wee bit bored with the sociological bits of who thinks who should lead and why... I have a hard time thinking that these guys wouldn't just stick to working on making life... liveable before starting some shit, but what do I know, I don't live with zombies.
Review by diovival
16/06/2015
I was counting down the days until I could get my hands on a copy of this book. So pressed! Volume 14 left me breathless and I needed to know what came next. How would the community recover from the events of the previous issue? How would the characters cope? Well, all my questions were answered. That's nice, I guess. Not too pleased with one of the budding romantic relationships. Maybe it will grow on me over time.
Review by norabelle414
27/08/2015
The community decides their future after the events of the last volume. Some people aren't too happy about it. Plus, a surprise at the end!A good, solid volume. The growth of the characters since the beginning is evident. They begin thinking about their future, rather than just how to survive the night.
Review by KittyBimble
27/08/2015
***May be spoilers ahead***This was the worst volume yet.There isn't much action going on, it's the aftermath of destroying the zombie herd, so everybody cleans up and talks a lot. There was a failed scavenger hunt for food, and people had sex. I really wanted Carl to die, it looked like a chunk of his head was missing, it's strange he survived being shot in the face. The ending was weird, Andrea kisses Rick. I mean what the actual fuck. It is really starting to get ridiculous - it feels like Kirkman gets a bit horny whilst writing his plots and so sticks in a random romance scene. I mean has everyone had sex with everyone by now? How are people not getting pregnant?! It's a good job they aren't because the next generation would all be related to each other. It's so odd.Also the guy that tried to lead a mini rebellion against Rick, took him all of 2 seconds after Rick threatened him to do a whole 180 and start to parrot Rick's values. That's just not realistic to me.I really hope the story picks up again because this was a complete snooze fest.