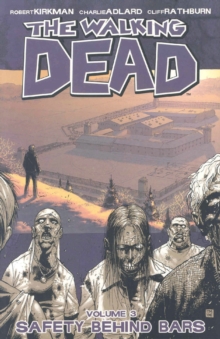 The Walking Dead Volume 3: Safety Behind Bars
Paperback
Description
The world we knew is gone. The world of commerce andfrivolous necessity has been replaced by a world of survival and responsibility. An epidemic of apocalyptic proportions has swept the globe, causing the dead torise and feed on the living.
In a matter of months society has crumbled: nogovernment, no grocery stores, no mail delivery, no cable TV.
In a world ruledby the dead, the survivors are forced to finally start living.This volume follows our band of survivors as they set up a permanent campinside a prison.
Relationships change, characters die, and our team of survivorslearn there's something far more deadly than zombies out there: each other.Reprint Edition
Information
Format: Paperback
Pages: 136 pages
Publisher: Image Comics
Publication Date: 16/05/2007
Category: Horror & ghost stories
ISBN: 9781582408057
Free Home Delivery
on all orders
Pick up orders
from local bookshops
Reviews
Showing 1 - 5 of 12 reviews.
Previous | Next
Review by Clurb
16/06/2015
As our heroes settle down to the task of reclaiming a living-space, Kirkman introduces themes of right and wrong, law and order, and how best to retain a sense of humanity whilst society is crumbling.
Review by aethercowboy
16/06/2015
I don't know if this series is changing, or if it's just me. I didn't like this volume as much as the others. While I still miss the illustrations of Tony Moore, preferring them to those of Charlie Adlard, I don't think that this is quite it.As the series progresses, the lights dim more and more. It gets darker, and the zombies cease to be the enemies within the pages. Further, as the characters grow more desperate for survival, the villains grow more villainous, and the heroes grow less heroic. It's this decline, I feel, that makes me less and less intrigued to read the next volume.While I know the staple villain in any zombie epic is not the undead, but rather, the people fallen on desperate times, I suppose that following such a story is less of an emotional commitment when reading a book or watching a movie. You don't get to know the characters as well before they're plucked away by careless actions of people who should know better.The series is well written, as far as zombie comic books can go. But sometimes, good writing of sad content can do more harm than good.
Review by briandarvell
16/06/2015
This instalment was a good continuation and I found it more enjoyable than the last book. Lots of development of the characters and the pace is fast and exciting. The ending really makes you eager to continue reading.
Review by jantinore
16/06/2015
I thought the graphic novel was well written and i like zombies and stuff like that so i recommend this book for people who like that kind of stuff
Review by Bookworm247
16/06/2015
**Spoiler Alert** Ok, I have to say this one was tons better than the second one.The artwork was still cool. Their was a bit of mystery to the killing of two girls.So far, I think I like volume one the best. I haven't read the rest in the series, but hope to soon.