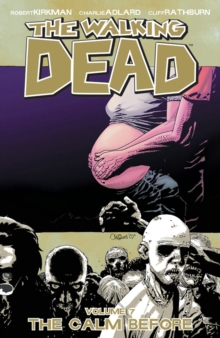 The Walking Dead Volume 7: The Calm Before
Paperback
Description
The world we knew is gone. The world of commerce andfrivolous necessity has been replaced by a world of survival and responsibility. An epidemic of apocalyptic proportions has swept the globe, causing the dead torise and feed on the living.
In a matter of months society has crumbled: nogovernment, no grocery stores, no mail delivery, no cable TV.
In a world ruledby the dead, the survivors are forced to finally start living.Lori's pregnancy has come to term, and the birth is near.
After everythingthey've been through, nothing can prepare Rick and the other survivors for whatthey are about to experience.
A major turning point in the series isreached.Reprint Edition
Information
Format: Paperback
Pages: 136 pages
Publisher: Image Comics
Publication Date: 26/09/2007
Category: Horror & ghost stories
ISBN: 9781582408286
Free Home Delivery
on all orders
Pick up orders
from local bookshops
Reviews
Showing 1 - 5 of 8 reviews.
Previous | Next
Review by Arctic-Stranger
16/06/2015
If you have read this far, you are probably hooked and know that the survivors of the Zombie infestation have taken residence in a local prison (keeping the zombie out) and recently three of their party were kidnapped by the evil forces down the road. This is as much a work about how humans react in adverse situations as it is a zombie graphic novel. The characters are not always likable, but they are what you have--in the same sense that all they have is each other. This one ends in a teaser for the next series, and since I am not reading the serial version, I have to wait for the next collection to see what happens.
Review by Debra_Armbruster
16/06/2015
A bit of a soap opera feel (I agree with Suzemo). A nice break from the Woodbury violence but also somewhat trite. I honestly enjoy the show more (I know, I know. I am a blasphemer). For myself, I found Carol's suicide was the single hard-hitting moment in this volume. Her feelings of being judged resonated - the almost high-schoolish mentality of so many of the survivors is difficult to read.
Review by suzemo
16/06/2015
The little soap-opera in a prison, surrounded by zombies storyline is getting boring. Very boring. Stupid things are happening, and I had to learn that Shane had a hairy ass. [sarcasm] yay [/sarcasm]. And I'm worried about what is going to happen when the baby is born, because nearly every storyline in any story ever tanks when you throw in a shorty or baby.
Review by diovival
16/06/2015
This was a nice reprieve from the intense violence of the previous volume. The remaining survivors try to rebuild their life at the prison after the Woodbury ordeal. Most of our cast of characters are able to regain a sense of normalcy within the confines of the prison's fences. Unfortunately, in the land of the walking dead nothing ever lasts.
Review by norabelle414
16/06/2015
The prison group gets a short respite from terrible people following their escape from Woodbury. They have a lot of sex and think about the future - sometimes with grievous results. And a baby is born!This is my favorite of the series so far. It's so much more poignant when compared with the violence that precedes and follows it.