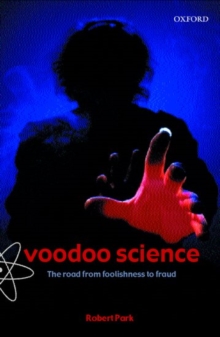 Voodoo Science : The Road from Foolishness to Fraud
Paperback
Description
Science fascinates us by its power to surprise. Occasionally, unexpected results that appear to violate accepted laws of nature can herald revolutionary advances in human knowledge.
Many 'revolutionary' discoveries, turn out to be wrong, however, and even eminent scientists have had their careers tarnished, mistakenly thinking that they have made a great discovery.
This is pathological science, in which scientists are subject to self-delusion. And if scientists can sometimes fool themselves, how much easier it is to craft arguments deliberately intended to befuddle jurists with little or no scientific background.
This is junk science, typically consisting of theories of what could be so, with little supporting evidence to prove that it is so.
Sometimes there is no evidence at all. Ancient beliefs in demons and magic still sweep across the modern landscape, but they are now dressed in the language and symbols of science.
This is pseudoscience, which its practitioners may believe to be science, just as witches and faith healers may believe they can call forth supernatural powers.
What may begin as an honest error, has a way of evolving from self-delusion to fraud. As Robert Park points out, the line between foolishness and fraud is thin, and because it is not always easy to tell when that line is crossed, he uses the term voodoo science to cover them all: pathological science, junk science, pseudo-science, and fraudulent science.
His book is intended to help the reader recognize voodoo science and to understand the forces that conspire to keep it alive.
Scientists, Park observes, insist that the cure for voodoo science is to raise the level of scientific literacy.
But what is it that a scientifically literate society should know?
It is not specific knowledge of science that the public needs, Park argues, so much as a scientific world view - an understanding that we live in an orderly universe governed by natural laws that cannot be circumvented by magic or miracles.
Information
Format: Paperback
Pages: 240 pages
Publisher: Oxford University Press
Publication Date: 21/03/2002
Category: History of science
ISBN: 9780198604433
Free Home Delivery
on all orders
Pick up orders
from local bookshops