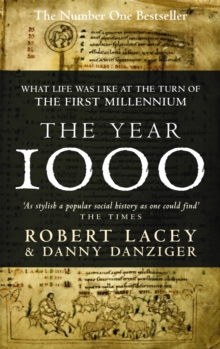 The Year 1000 : An Englishman's Year
Paperback
Description
THE YEAR 1000 is a vivid evocation of how English people lived a thousand years ago - no spinach, sugar or Caesarean operations in which the mother had any chance of survival, but a world that knew brain surgeons, property developers and, yes, even the occasional gossip columnist. In the spirit of modern investigative journalism, Lacey and Danziger interviewed the leading historians and archaeologists in their field. In the year 1000 the changing seasons shaped a life that was, by our standards, both soothingly quiet and frighteningly hazardous - and if you survived, you could expect to grow to just about the same height and stature as anyone living today. This exuberant and informative book concludes as the shadow of the millennium descends across England and Christendom, with prophets of doom invoking the spectre of the Anti-Christ. Here comes the abacus - the medieval calculating machine - along with bewildering new concepts like infinity and zero. These are portents of the future, and THE YEAR 1000 finishes by examining the human and social ingredients that were to make for survival and success in the next thousand years.
Information
Format: Paperback
Pages: 240 pages
Publisher: Little, Brown Book Group
Publication Date: 04/01/2000
ISBN: 9780349113067
Free Home Delivery
on all orders
Pick up orders
from local bookshops
Reviews
Showing 1 - 3 of 3 reviews.
Review by lyzadanger
16/06/2015
Totally approachable, easy, quick read about quotidian life in medieval England. Not an academic text, but a light and entertaining read.
Review by hirotani
16/06/2015
A book about Anglo-Saxon England around the 1,000 AD. Um. Yes, I agree with you - I was surprised when found myself buying it as well. It does not seem to be something that one would pickup in an airport to read on a 10 hour flight. Also I generally read earlier or later history. Ancient or 16th centuary onwards. I don't read much in between. But may be that's the reason it attracted me?Not sure - but I am sure that I really enjoyed reading this book. Its easy reading, informative in a quirky and attention grabbing way - and ever so interesting. The book is more a themed discussion covering a particular period of time, with comparisions to other periods - than a "history book". An odd description I know - but if you read the book and forgive my poor description - you will know what I mean. There is a lot of history in this book - its just not laid out and tackled like a history book. This is not a text book - its a reading book that happens to be about the history a particular time. Well written and interesting - I very much enjoyed it and recommend it.
Review by isabelx
16/06/2015
Christ, there is a swarm of bees outside,Fly hither, my little cattle,In blest peace, in God's protection,Come home safe and sound!This book is about every-day life in Anglo-Saxon England around the year 1000 A.D. The annual round of agricultural tasks, as shown in the pages of a mediaeval manuscript known as the Julius Work Calendar, gives the book its structure.One of the things I found most interesting was about bees and the charms (both Christian and pagan) used to persuade a swarm of bees to build their nest on your land. Honey was the only form of sweetener in use at that time and it was a lucky day when a swarm of bees took up residence on your land, since there was good money to be made from honey, beeswax and a resin used as a building material by the bees. Maybe the charms are the precursor of the tradition that beekeepers should always tell their bees when anything important happens, such as a death in the family. Make the bees feel welcome and part of the family and they will hang around!