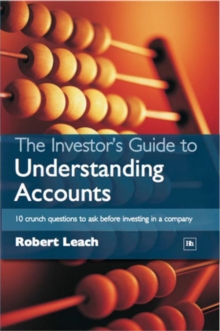 The Investor's Guide to Understanding Accounts : 10 Crunch Questions to Ask Before Investing in a Company
Paperback
Description
Many investors ignore company accounts because they think they are too difficult.
But, as the great investor Peter Lynch said "Investing without looking at the numbers is like playing bridge without looking at the cards".
The mission of this book is to explain to ordinary investors, with no accounting knowledge, what to look for in a set of accounts and how to interpret what you find - so that you have an accurate 'health check' on a company in ten simple steps.
Robert Leach considers the entire subject from an investor's point of view, by asking - and then answering - the questions which matter most.
He also looks at the techniques which companies sometimes use to flatter their accounts, and shows how accounts for companies in different sectors have to be looked at differently.
The 10 Crunch questions: 1. Is the company growing? 2. Are costs under control? 3. Does it make a profit? 4. How much cash does it have? 5. Is its market value supported by assets? 6. Is it using debt wisely? 7. Are there any hidden nasties? 8. Is management good enough? 9. Can I expect a reliable income? 10. Are there any threats to my interests?
Information
Format: Paperback
Pages: 246 pages, 1, black & white illustrations
Publisher: Harriman House Publishing
Publication Date: 01/07/2004
Category: Stocks & shares
ISBN: 9781897597279
Free Home Delivery
on all orders
Pick up orders
from local bookshops