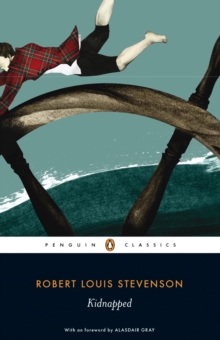 Description
Robert Louis Stevenson's Kidnapped is at once a rollicking adventure story and an earnest political allegory.
This Penguin Classics edition is edited with an introduction and notes by Donald McFarlan and a foreword by Alasdair Gray.Orphaned and penniless, David Balfour sets out to find his last living relative, miserly and reclusive Uncle Ebenezer.
But Ebenezer is far from welcoming, and David narrowly escapes being murdered before he is kidnapped and imprisoned on a ship bound for the Carolinas.
When the ship is wrecked, David, along with the fiery rebel Alan Breck, makes his way back across the treacherous Highland terrain on a quest for justice.
Through his powerful depiction of the two very different central characters - the romantic Breck and the rational Whig David - Stevenson dramatized a conflict at the heart of Scottish culture in the aftermath of the Jacobite rebellion, as well as creating an unforgettable adventure story.This new edition includes a foreword by Alasdair Gray discussing Stevenson's life and literary career and how he came to write Kidnapped.
In his introduction, Donald McFarlan considers the novel's realism and a depiction of Scotland.
This volume also includes a historical note, a map, notes, new further reading and a glossary.Robert Louis Stevenson (1850-1894) was born in Edinburgh, the son of a prosperous civil engineer.
Although he began his career as an essayist and travel writer, the success of Treasure Island (1883) and Kidnapped (1886) established his reputation as a writer of tales of action and adventure.
Stevenson's Calvinist upbringing lent him a preoccupation with predestination and a fascination with the presence of evil, themes he explored in The Strange Case of Dr Jekyll and Mr Hyde (1886), and The Master of Ballantrae (1893).If you enjoyed Kidnapped, you might like Jack London's The Call of the Wild, White Fang, and Other Stories, also available in Penguin Classics.
Information
Format: Paperback
Pages: 304 pages
Publisher: Penguin Books Ltd
Publication Date: 27/09/2007
Category: Classic fiction (pre c 1945)
ISBN: 9780141441795
Other Formats
Paperback from £2.50
Hardback from £5.19
CD-Audio from £9.95
EPUB from £0.99
Free Home Delivery
on all orders
Pick up orders
from local bookshops
Reviews
Showing 1 - 2 of 2 reviews.
Review by nielspeterqm
16/06/2015
At first sight, this work seems disquietingly similar to Stevenson's better known Treasure Island: around the middle of the 18th Century (not Stevenson's own 19th Century), an impoverished, inexperienced, but self-respecting teenage hero is set to sea by circumstance. Here he faces a crew of thugs whom, supported by strong role-models, he valiantly defeats. Then follows a long voyage of wandering & discovery until at last he comes to spiritual & material independence under the wise & watchful eye of his mentors, portrayed as very pillars of a romanticized British Empire.But there the similarity does stop. Kidnapped is exclusively about 18th Century Scotland & its entirely unforgettable inhabitants. Its sea voyage is a circumnavigation of Scotland, no more, no less. The perilous return to the home town takes place across hills & heather. Finally & most important, every character in the novel is as Scottish as its teenage hero - or as Stevenson was himself.You might say that Kidnapped offers all the assets of Treasure Island, plus one: the tense but warm atmosphere of an independence-loving nation during the waning years of its armed rebellion against the English. Stevenson, in loving mastery of his subject yet never as uncritical as he seems, ignores neither politics, intrigues, & clan quarrels, nor the (predictable) homage to bagpipe & tartans. The book is therefore flavoursome in a manner that even Treasure Island, for all its power, never attains. The historical & cultural depth here is simply greater - & the book perhaps as entertaining.
Review by mbmackay
27/01/2016
Written for teens. Has much more character development than Treasure Island and covers quite a bit of Jacobite history. Good stuff.Read in Samoa June 2004
Also by Robert Louis Stevenson | View all