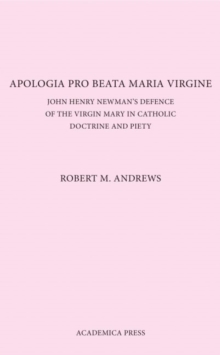 Apologia Pro Beata Maria Virgine : John Henry Newman's Defence of the Virgin Mary in Catholic Doctrine and Piety
Paperback / softback
Description
Apologia Pro Beata Maria Virgine: John Henry Newman's Defence of the Virgin Mary in Catholic Doctrine and Piety discusses a theme within Newman's Mariology: namely, his apologetic defense of the place of the Virgin Mary in Catholic doctrine and piety.
Newman is not instinctively known as a Marian theologian or apologist, but as a number of recent scholars have argued, he should.
This revised paperback edition of the book shows ever more strongly how Newman possessed a highly developed Marian apologetic-one that grew out of his Anglican background and that developed into his life as a Catholic priest.
Based solidly upon Scripture and the Church Fathers, his thought on the place of the Virgin Mary in the life and faith of Catholicism was, like much of his theology, ahead of its time and frequently out of step with the nineteenth-century Catholic milieu he lived within.
This study of Newman's defense of Catholic Mariology and its place in Catholic piety is achieved through an examination of some of Newman's Anglican sermons, his Essay on the Development of Christian Doctrine (1845), some of his private correspondence and, finally, his Letter to Pusey (1866).
From a discussion of these texts, this book argues that Newman's Mariology was unique in its day and has proved prophetic in directing the future direction of Catholic Mariology.
For Newman, the Virgin Mary-rightly understood in her biblical and patristic context-was `our pattern of faith', a model for theological reflection and development.
Free Home Delivery
on all orders
Pick up orders
from local bookshops
Also by Robert M. Andrews