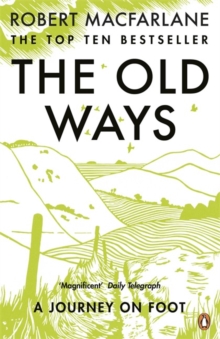 The Old Ways : A Journey on Foot
Paperback
Description
SHORTLISTED FOR THE SAMUEL JOHNSON PRIZE 2012THE SUNDAY TIMES #3 BESTSELLERThe genre-defining book by acclaimed nature writer Robert Macfarlane: travel Britain's ancient paths and discover the secrets of this beautiful, underappreciated landscapeFollowing the tracks, holloways, drove-roads and sea paths that form part of a vast ancient network of routes criss-crossing the British Isles and beyond, Robert Macfarlane discovers a lost world - a landscape of the feet and the mind, of pilgrimage and ritual, of stories and ghosts; above all of the places and journeys which inspire and inhabit our imaginations.'Really do love it.
He has a rare physical intelligence and affords total immersion in place, elements and the passage of time: wonderful' Antony Gormley'A marvellous marriage of scholarship, imagination and evocation of place.
I always feel exhilarated after reading Macfarlane' Penelope Lively'Macfarlane immerses himself in regions we may have thought familiar, resurrecting them newly potent and sometimes beautifully strange. In a moving achievement, he returns our heritage to us' Colin Thubron'Every Robert MacFarlane book offers beautiful writing, bold journeys . . . With its global reach and mysterious Sebaldian structure, this is MacFarlane's most important book yet' David Rothenberg, author of Survival of the Beautiful and Thousand Mile Song'Luminous, possessing a seemingly paradoxical combination of the dream-like and the hyper-vigilant, The Old Ways is, as with all of Macfarlane's work, a magnificent read.
Each sentence can carry astonishing discovery' Rick Bass, US novelist and nature writer'The Old Ways confirms Robert Macfarlane's reputation as one of the most eloquent and observant of contemporary writers about nature' Scotland on Sunday'Sublime writing . . . sets the imagination tingling . . . Macfarlane's way of writing [is] free, exploratory, rambling and haphazard but resourceful, individual, following his own whims, and laying an irresistible trail for readers to follow' Sunday Times'Macfarlane relishes wild, as well as old, places.
He writes about both beautifully . . . I love to read Macfarlane' John Sutherland, Financial Times'Read this and it will be impossible to take an unremarkable walk again' Metro
Information
Format: Paperback
Pages: 448 pages
Publisher: Penguin Books Ltd
Publication Date: 30/05/2013
Category: Travel writing
ISBN: 9780141030586
Other Formats
EPUB from £5.49
eAudiobook MP3 from £16.76
Free Home Delivery
on all orders
Pick up orders
from local bookshops
Reviews
Showing 1 - 2 of 2 reviews.
Review by Eyejaybee
16/06/2015
Robert Macfarlane has produced a marvelous and haunting book. Macfarlane is a Fellow of Emmanual College, Cambridge, and he is well known for his scholarly introductions to a wide range of works. He is, however, also a keen (obsessive?) walker and climber, and has walked literally thousands of miles all around the world.In this book he is particularly interested in exploring ancient ways, old paths that have existed for centuries. He starts with the Icknield Way, apparently Britain's oldest surviving route which extends from West Norfolk down to Dorset, running for part of its way along the Ridgeway (and there are many who believe that they are both parts of the same ancient route). Macfarlane likes to start early, often sleeping out in the open and starting to walk as soon as he wakes (in the summer often around 4.00 a.m. once the skylarks start their raucous early chorus), and will often walk more than thirty miles in a day. He clearly loves the country, and his descriptions of the flora and fauna are detailed and affectionate. However, his greatest interest seems to be in the geology of his routes about which he is immensely informative without ever losing the reader's interest of seeming to proselytise.One of the joys of this book is the light he sheds on old routes, some of which remain in use while others have been all but lost. One of the routes he follows is described as the deadliest path in England and actually involves walking across Maplin Sands off the Essex coast, across sea to the island of Foulness, and this can only be done when the tide is out. As with Morecambe Bay, scene of a tragedy several years ago when a troop of bonded labour cockle pickers were drowned, the tide at Foulness comes in with terrific pace, faster than a man can run, so constant attention to times, tide maps and conditions is essential. The walk is known as "The Broomway" because of a series of high brooms planted along the course to show where the safe land is. Macfarlane and a friend completed the path and he gives a beautiful description of the interplay between the land, the sea and the indeterminate margin where one morphs into the other.He doesn't just consider walking, though. Some of the most ancient routes were across the sea, and before the advent of decent roads (What did the Romans ever do for us ....) the quickest way to travel was generally by sea, using the network of tides and currents that surround the country. Two chapters are devoted to voyages from Stornoway following ancient trade routes throughout the Hebrides.He also recounts a walk from Blair Atholl to Tomintoul en route to attend the funeral of his grandfather, also an ardent walker and about whom Macfarlane offers a moving memoir. I know the area he depicts in this walk, but will look at it in a wholly different way from now on.Other walks include a wander through disputed areas in Palestine, the Camino in Spain and around the sacred peak of Mount Kailash in Tibet . The final chapter is a brief but poignant biography of Edward Thomas, the Welsh poet who died in World War One, and who had devoted much of his life to walking, and writing about it. All in all a very striking book - in fact it seemed like several books in one.
Review by shanaqui
16/06/2015
The Old Ways was, for me, a bit like reading Richard Fortey's work. Non-fiction that I'm not necessarily very interested in, but which is beautifully written, lyrical, literate. It wasn't boring at all -- meditative, perhaps. Sometimes Macfarlane's a little too airy and mystical for me, too caught up in his imagination, but sometimes he comes round to something like Fortey, like the book I read recently on meditation, like Francis Pryor's book about Seahenge and the ritual landscape.

I'm not particularly a walker myself, not now. As a kid I walked quite a lot with my grandfather, who would never have been nearly as poetic about walking as Macfarlane. It's walking in the mountains in Wales that speaks to me, the hot still space at a ford where you could turn down toward home or go on toward a blackberry field, flies swarming on the evidence that a horse had come through earlier that day. Not a trek across chalk or snow or fen land: not this quasi-mystical experience of the landscape-as-self, just a walk on a warm day with blackberries in the middle and a scolding for getting so dusty/muddy at the end. If we went further afield, a hand-drawn map with "Grandma fell here" or some such comment to immortalise the trip.

Still, I can appreciate the sentiment behind this, and the lyrical writing. It just gets a bit too caught up in itself for me.