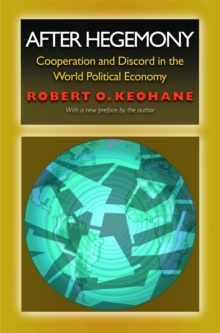 After Hegemony : Cooperation and Discord in the World Political Economy
Paperback
Description
This book is a comprehensive study of cooperation among the advanced capitalist countries.
Can cooperation persist without the dominance of a single power, such as the United States after World War II?
To answer this pressing question, Robert Keohane analyzes the institutions, or "international regimes," through which cooperation has taken place in the world political economy and describes the evolution of these regimes as American hegemony has eroded.
Refuting the idea that the decline of hegemony makes cooperation impossible, he views international regimes not as weak substitutes for world government but as devices for facilitating decentralized cooperation among egoistic actors.
In the preface the author addresses the issue of cooperation after the end of the Soviet empire and with the renewed dominance of the United States, in security matters, as well as recent scholarship on cooperation.
Information
Format: Paperback
Pages: 320 pages
Publisher: Princeton University Press
Publication Date: 28/02/2005
Category: Political economy
ISBN: 9780691122489
Free Home Delivery
on all orders
Pick up orders
from local bookshops
Reviews
Showing 1 - 1 of 1 reviews.
Review by Bretzky1
16/06/2015
With <i>After Hegemony</i> Robert O. Keohane attempts to explain why the standard Realist assumption of the existence of international discord in the absence of a hegemonic power might not be the future we have in store after the fall of American hegemony.Realists claim that there are only two ways for cooperation to occur in the international system: 1) the cooperating states simply have an interest in seeing the same outcome occur or 2) there is a hegemonic power capable of forcing reluctant states to cooperate. The latter explanation is generally put forward to explain why European states acceded to American wishes in constructing the post-World War II international economic order in a manner that was generally favorable to American interests.A Realist would argue that once American hegemony ceased, there would be a rush to exit this system by those states that do not benefit from it. According to Keohane, that has not happened even though relative American power has been on the wane since as least as far back as 1960. Keohane attributes this lack of discord not to an alignment of national interests among the advanced industrialized states, but to the effect of the institutions that the U.S. built mostly in the 1940s and 1950s, institutions whose purpose was to help extend American control beyond its ability to militarily impose its wishes on others.Crucially, Keohane does not attribute the ability of these institutions to foster cooperation to any centralized rule enforcement mechanism, which most international organizations lack. He instead attributes it to the self-interest of the member states themselves, that is, he places it within a Realist system of self-interested anarchy. These institutions foster cooperation in two ways. First, they disseminate information to the member-states, which reduces uncertainty for all participants. Second, they increase the number of interactions between the member-states, which makes keeping one's word and being seen as a reliable partner important assets in world politics. In other words, these institutions permit member-states to come to a negotiated agreement that provides a benefit to all participants, and they make it very difficult for member-states to defect for fear of losing out on future opportunities.The main drawback to Keohane's theory is that at the time that he wrote <i>After Hegemony</i> the Western world was really still in a period of American hegemonic leadership. As Keohane points out, while the U.S. could not force the rest of the Western world to go along with its wishes, neither could the rest of the Western world do anything without U.S. participation. Ironically, with the fall of Communism as a viable alternative to liberal capitalism, the importance of the U.S. to the international system only strengthened. And in many ways we are still in a world where nothing of importance can get done without U.S. participation. The climate change regime that the Europeans and Japanese are trying to create is prime evidence of this. There is no doubt that if the U.S. jumped on board, a global climate change regime could be implemented, but without it, it will not happen. As such, a real testing of Keohane's theory might need to wait for a few more decades until China has grown powerful enough to recreate the bipolar international system that existed from the mid-1960s into the mid-1980s.