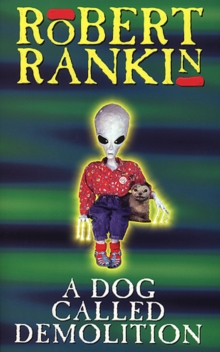 A Dog Called Demolition
Paperback / softback
Description
DANNY: PORTRAIT OF A SURREAL KILLERDanny's not sad and lonely any more because Danny's got 'the voices'. Well, one voice. It's the voice of his dog. Not that it's a real dog, Danny's mother would never let him have a real dog, so Danny made up one for himself. And a fine big dog it is too, with a waggy tail and a nice cold nose. Danny was going to call it Princey, but the dog told him its name was Demolition. So that's what Danny calls it. And the dog's told him other things too. Like how to adjust the bar-code reader in the shop where Danny works so that he can read the lines on people's palms and Danny can see what they're thinking. And which small ads in the comic books to send off to, so Danny can become irresistible to women, bend others to his will, gain vital inches and fear no man living. No, Danny's not sad and lonely any more. Danny's barking mad. Robert Rankin has been described variously as 'Funnier than Aleister Crowley, more dangerous than P.G.
Wodehouse' (Cardinal Cox, EP Magazine), 'The drinking man's H.G.
Wells' (Midweek) and 'An irregular genius' (David Profumo, The Daily Telegraph). His 13th novel is a nightmare journey to hell and back (with only a brief stop at a Happy Eater to use the toilet). Where Natural Born Killers and Silence of the Lambs merely dipped their toes in terror's icy water, Rankin boldly takes his lurex sock off and really puts his foot in it.
Information
Format:Paperback / softback
Pages:320 pages
Publisher:Transworld Publishers Ltd
Publication Date:05/10/2015
Category:
ISBN:9780552172219