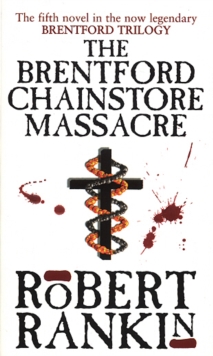 The Brentford Chain-store Massacre
Paperback
Description
There is nothing more powerful than a bad idea whose time has come. And there can be few ideas less bad or more potentially apocalyptic than that hatched by genetic scientist Dr Stephen Malone. Using DNA strands extracted from the dried blood on the Turin Shroud, Dr Malone is cloning Jesus. And not just a single Jesus, he's going for a full half-dozen so that each of the world's major religions can have one. It's a really bad idea. In Brentford they've had a really good idea. They're holding the Millennial Celebrations two years early to avoid the rush. It's a tradition, or an old charter, or something. And it promises to be the party of this, or any other, century. Unless, of course, something REALLY BAD was to happen... Described as a 'stark raving genius' (Observer), Robert Rankin has once again surpassed himself in his latest creation.
Information
Format: Paperback
Pages: 368 pages
Publisher: Transworld Publishers Ltd
Publication Date: 04/06/1998
Category: Science fiction
ISBN: 9780552143578
Free Home Delivery
on all orders
Pick up orders
from local bookshops
Reviews
Showing 1 - 2 of 2 reviews.
Review by SonicQuack
16/06/2015
If you pulled out the pages that actually were important to the central plot of this short Brentonian outing there wouldn't be many pages in your hand. Fortunately the filler is all Rankin. Plenty of running gags, raunchy gags, pop culture gags and slapstick. Although the story seems somewhat irrelevant it's a short and mostly entertaining ride, easily completed in a few hours.
Review by isabelx
16/06/2015
'And the lights upon the allotment,' said Soap, 'what would you take those to be?' 'The work of the council,' said Omally firmly, 'another plot to confound honest golfers.' Soap burst into a paroxysm of laughter. Tears rolled down his pale cheeks and he clutched at his stomach. 'Come now,' said Pooley, 'it is no laughing matter, these lads have it in for us.' 'Have it in for you?' gasped Soap between convulsions. 'You witness a test run of laser-operated gravitational landing beams, the product of a technology beyond comprehension, and you put it down to the work of Brentford Council?''If you will pardon me,' said Pooley, somewhat offended, 'If it is the product of a technology beyond comprehension I hardly feel that I can be blamed for finding it so.''Quite', said Omalley.1) The Antipope 2) The Brentford Triangle 3) East of Ealing4) The Sprouts of Wrath 5) The Brentford Chainstore MassacreI decided that I should try to fit in some re-reads of old favourites over the next few months, and I started with The Brentford Trilogy since I've got two linked books on my TBR shelf. I liked book 1 of this series, but it was book 2 that got me hooked. On the surface Brentford may appear to be a normal West London suburb, but it's actually a centre of weirdness and a magnet for the uncanny. So it's lucky that the mysterious Professor Slocombe, and local layabouts Pooley and Omalley are ready to tackle evil whenever it rears its head, with the help of the inventive genius Norman Hartnel, hollow-earther Soap Distant and the other regulars of The Flying Swan pub.