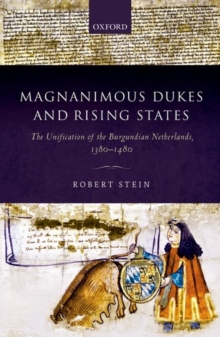 Magnanimous Dukes and Rising States : The Unification of the Burgundian Netherlands, 1380-1480
Hardback
Description
In the late fourteenth and the fifteenth centuries, the Dukes of Valois-Burgundy created a composite monarchy in the Netherlands, an area that had been dominated for centuries by several regional dynasties.
In this way they laid the foundation for the modern states of the Netherlands, Belgium, and Luxemburg.
The rise of the House of Burgundy can be read as the success story of a dynasty that in little over a century managed to assemble a great number ofprincipalities, thus creating a new state.
The Burgundian takeover, however, resulted in a modernization of administration, jurisdiction, and finances.
The process of unification and the character of the union are the central topics of Magnanimous Dukes and Rising States.
Robert Stein mirrors continuity andmodernisation in Burgundian times with the bankruptcy of the former dynasties and the decline of feudal government.
The powerful towns played an important background role; it was only with their support that a unification of the Netherlands was possible, but this support was not unselfish.
This study is about the development of power relations and institutions in the field of tension between ruler and subject, between centralisation and particularism.
Information
Format: Hardback
Pages: 336 pages, numerous black and white figures, tables, and graphs
Publisher: Oxford University Press
Publication Date: 23/03/2017
Category: European history
ISBN: 9780198757108
Also in the Oxford Studies in Medieval European History series | View all