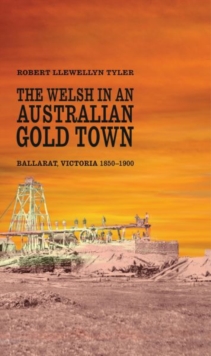 The Welsh in an Australian Gold Town : Ballarat, Victoria 1850-1900
Hardback
Description
Works which have sought to look specifically at the Welsh in Australia have been few in number and characterised by a concentration on prominent individuals and cultural/religious societies, thus excluding many facets of immigrant life.
This book provides an analysis of the Welsh immigrant community in the Ballarat/Sebastopol gold mining district of Victoria, Australia during the second half of the nineteenth century and considers all aspects of the Welsh immigrant experience.
As its focus, the book has the Welsh migrant group as a whole, in one particular area, during one period of time, for ultimately it was the migrants themselves who were responsible for the strength or weakness of Welsh religious life, the success or failure of Welsh cultural institutions; they who decided whether or not to retain and transmit their national language if, indeed, they spoke it in the first place; they who chose whether or not to marry within their own group, to live amongst their own, to retain the ties of Welshness and pass on the values of the Old Country, or to attempt full and immediate integration; they who were miners or shop owners, abstainers or drunkards, law abiding or criminal. A true picture of Welsh immigrant life can only be obtained by considering the community in its entirety, to view it in the round, as it were.
This work attempts to do just that and hopes to make some small contribution to the understanding of what it was to be one amongst the thousands of Welsh people who lived in a particular place at a certain time in a land so far from Wales.
Information
Format:Hardback
Pages:224 pages, No
Publisher:University of Wales Press
Publication Date:30/11/2010
Category:
ISBN:9780708322666