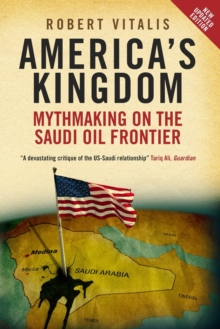 America's Kingdom : Mythmaking on the Saudi Oil Frontier
Paperback / softback
Description
"America's Kingdom" debunks the many myths that now surround the United States' special relationship with Saudi Arabia, also known as 'the deal': oil for security.
Exploding the long-established myth that the Arabian American Oil Company, Aramco, made miracles happen in the desert, Robert Vitalis shows how oil led the U.S. government to follow the company to the kingdom, and how oil and ARAMCO quickly became America's largest single overseas private enterprise.From the establishment in the 1930s of a Jim Crow system in the Dhahran oil camps, modeled on similar labor camps set up in Latin America, the book examines the period of unrest in the 1950s and 1960s when workers challenged the racial hierarchy of ARAMCO while a small cadre of progressive Saudis challenged the hierarchy of the international oil market.
The defeat of these groups led to the consolidation of America's Kingdom under the House of Fahd, the royal faction that still rules today.
Informed by first-hand accounts from ARAMCO employees and top U.S. government officials, this book offers the true story of the events on the Saudi oil fields.
Information
Format: Paperback / softback
Pages: 416 pages
Publisher: Verso Books
Publication Date: 01/03/2009
Category: International relations
ISBN: 9781844673131