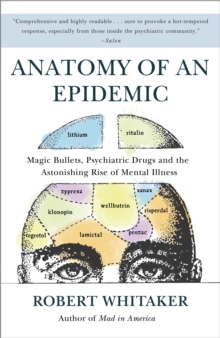 Anatomy Of An Epidemic
Paperback
Information
Format: Paperback
Pages: 416 pages
Publisher: Broadway Books (A Division of Bantam Doubleday Del
Publication Date: 01/01/1998
Category: Popular medicine & health
ISBN: 9780307452429
Free Home Delivery
on all orders
Pick up orders
from local bookshops
Reviews
Showing 1 - 3 of 3 reviews.
Review by Darcia
16/06/2015
Lately there has been a lot of talk here in the U.S. about our broken Social Security system. Media and certain members of government are quick to blame the problem on our rising number of senior citizens. No one has publicly addressed the very real issue that is weighing down our system, which is the incredible amount of children and adults under 65 who are now on SSI or SSDI due to anxiety and depression. This is a recent phenomenon, and one of many Whitaker addresses in this book.The information here is fascinating, stunning, and, at times, terrifying. While I wouldn't call this an 'easy' read, the writing style is conversational and engaging. You don't need a background in psychology to understand the facts.I highly recommend this book to everyone, particularly parents who are contemplating medications for their children.
Review by St.CroixSue
16/06/2015
This book is a disturbing expose of psychopharmaceuticals, the biological basis of mental illness, and the historical background of treatments and their efficacy or lack thereof. The author's critique leans very much toward non-medicating mental illness (or at least short term medication) of everything from schizophrenia to depression, but he supplies compelling arguments and substantial scientific literature to back up this stand. The worst cases that he brings up are very frightening, and depressing.
Review by csweder
16/06/2015
This book we incredibly interesting, and incredibly terrifying. I have mixed feelings--on the one hand I did think before I read this book that medication could be good for people. But I also thought that some diagnoses are being giving too frequently and that perhaps there is some misuse of medications.<br/><br/>The entire premise of this book, however, is that the mess not only don't help patients, it actually makes them worse! It INCREASES the chances of relapse and increases likelihood of brain damage. It is really terrifying.<br/><br/>Why don't we know about this you ask? Simple: money. The pharmaceutical companies pay good money to doctors, psychiatrists, professors, for this information not to gt out, and for the message that these meds in fact help and are the only answer.<br/><br/>It's sickening. Heartbreaking. The book repeatedly comes back to the issue that many of these medicated people are now on disability, being physically unable to work now. <br/><br/>The only thing keeping this book from four stars was the little voice in my head asking me to be critical of everything I read--including this authors conclusions. There were many instances where the author's conclusion isn't the only possible one, where it was obvious a quote was taken out of context, or just where he might have been trying to make the numbers sound more impressive, rather than really trying to do a strict comparison. Of course, he is trying to get a point across and to be persuasive. I just have a few doubts on some of his claims. Overall I agree with the premise: we need to medicate less.