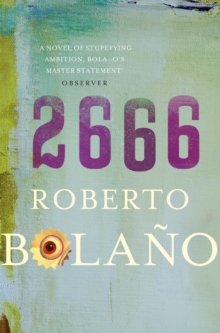 Description
Written with burning intesity in the last years of Roberto Bolano's life, 2666 has been greeted across the world as the great writer's masterpiece, surpassing everything in imagination, beauty and scope.
It is a novel on an astonishing scale from a passionate visionary. 'The best book of 2008 ...A masterpiece, the electrifying literary event of the year' Time 'Readers who have snacked on Haruki Murakami will feast on Roberto Bolano' Sunday Times 'Bolano makes you feel changed for having read him; he adjusts your angle of view on the world' Guardian
Information
Format: Paperback
Pages: 912 pages
Publisher: Pan Macmillan
Publication Date: 04/07/2009
ISBN: 9780330447430
Other Formats
Paperback from £10.19
EPUB from £9.59
eAudiobook MP3 from £37.76
Free Home Delivery
on all orders
Pick up orders
from local bookshops
Reviews
Showing 1 - 5 of 7 reviews.
Previous | Next
Review by soylentgreen23
16/06/2015
This could be the best book I've ever read. I'll have to think about it - and I know I will because I've never read anything quite like this, I really haven't, not since Moby Dick at any rate.Bolano's sprawling masterpiece could have lasted another thousand pages and still gone nowhere, and I would have loved it just as much. The characters are so intriguing, and I was always fascinated, even when the story took surprising and unusual turns. It's impossible, really, to say what it's about without relating everything that's written - so all I can say is that you should read it too.
Review by henryarnheim
16/06/2015
Oh what a magnificent book. The sort of book we should be reading as this bruised and battered decade draws to its close. Meta-fictive, mulit-layered, profound, desperate. I just loved it.
Review by Dalan
16/06/2015
By turns this book is funny, tender, horrible, but always surprising and there's never a compromise with the truth. It has much to say about violence, corruption, incompetence, and frail human best efforts, which include writing and reading. Magnum opus!
Review by LisaMorr
16/06/2015
This is a hard one to sort out. I was planning on doing the group read, but I ended up just reading the thing straight through and not making any comments on it as I went along, partly because I was traveling a lot at the time and partly because I didn't want to stop and wanted to see how all these Parts connected together. Well, they do and they don't - the Parts that is - connect together. Bolano wrote the book in 5 chapters, or Parts, and in fact wanted the book to be published a chapter at a time, according to his instructions to his family and publisher, before he passed away. Yes they connect together in that you will find connections to characters within each Part, but there is no real resolution, which I kind of expected when I started to read it. It's one of those books where you are left wondering exactly who did what. One chapter was particularly disturbing, where it goes on and on and on and on in lurid detail describing the murders of mostly young Mexican women, a parallel to the reailty in Ciudad Juarez. With these type of books, where you don't really know what happened in the end, on the one hand I wish It was all tied up neatly, but on the other hand, I guess the point is to leave the reader guessing.
Review by baswood
16/06/2015
This book has been hailed as the first great book of the 21st century (Complete Review). Its 893 pages have been reviewed by 77 LT members alone and it is owned by 2,643 people.It is a huge sprawl of a novel divided into five distinct parts that although connected have very little narrative drive. It is an unfinished novel written by a dying man who wished it to be published as five separate books. There are no resolutions, nothing is tidy and a strong stomach is needed to digest the countless violent deaths that occur with increasing rapidity. The novel is misogynistic, racist and sexist with an author more in love with literature than his fellow human beings. He keeps many of his character's emotions at arms length any humour is of the blackest kind and its cast of thousands can be bewildering. Having said all that it is a novel of striking originality, a major achievement and for the most part very readable.The subjects that link the novel are the murders of hundreds of women in the northern Mexican town of Santa Teresa, the search for a reclusive author who might have been a Nazi sympathiser and the murderer of Jews in the Second world war. The major themes that emerge are the impotency of individuals when faced with an almost global evil, The ineffectiveness of art when faced with brutal reality, the brevity of life and how that can be so easily taken away from those with little power or money and the violence that lives just below the surface of any civilization. The book literally teams with ideas, fascinating digressions and dream states, so much so that any attempt to enumerate and expand on these would take pages of script. needless to say for those who want to undertake a detailed analysis then there are enough talking points to keep them busy for the rest of the year.The reason for Bolano's wish to have his novel published as five separate books was apparently financial, but I think a case could be made on artistic grounds. Being new to Bolano's oeuvre I found that Part 5: The part about Archimboldi, more readily demonstrates the power and sweep of Bolano's vision. Not only does this part have the broadest narrative drive it also brings us closer to the thoughts and feelings of his characters. There is more compassion and humanity shown here despite its subject matter, which is Archimboldi's war career and its aftermath in a destroyed Germany. This part of the book stands easily on its own and I for one would liked to have read this part first and gone back to the previous parts. There are some loose ends tied up here and one mystery solved, however this is not a mystery or detective story, as such and enjoyment would not be spoilt by reading this part first.The other four parts each have a distinct style and stand on their own. Part 1: The Part about the Critics, follows four academics search for the mysterious Archimboldi. It is written in a cold almost analytical style that reflects the world of Academia and allows Bolano to compare their sheltered and privileged lives with their detachment from reality. It is almost a parody as the infighting, competition and obsession with a creative talent dominates their lives and relationships. It allows Bolano to indulge in some pastiche as well as his knowledge of world literature. The academic trail leads them to Santa Teresa where they become tourists hardly touched by the violence of the city.Part 2: The part about Amalfitano: takes us closer to reality. Amalfitano moves to Santa Teresa where the violence and his impotence in being unable to protect his wife and daughter leads to his mental breakdown. Bolano has the murders lurking on the edge of our vision hanging like some sword of Damocles over his characters. The atmosphere is brooding and dark and the sense of dread is well handled.Part 3: The part about Fate: finds us in noir thriller land as Oscar Fate a journalist in Santa Teresa to cover a boxing match gets very close to the violence and murder. He takes action and risks his life to save Amalfitano's daughter. This part is exciting and fast paced, but still Bolano effortlessly interweaves his digressions and dream states without losing his focus on the tension in his story line.Part 4: The part about the Crimes: a dramatic change of style again as Bolano takes us into the horror of the criminal world of Santa Teresa. This is the longest section and much of it is a clinical newspaper type reportage of the murders of women. The discovery of the bodies and the clinical details of their assaults are described in almost pornographic relish as they occur over a four year period. Hundreds of unsolved crimes are listed with their forensic detail, piling up to amount to mind numbing horror. A parody of the modern detective forensic novel perhaps, with the inefficiency and corruption of the police force implicit in the details. This long section spells out the evils of a modern capitalist society running unchecked and is a political commentary as much as anything else. This is a powerful novel that covers huge areas of modern society and its evils. Superbly written, intelligent and endlessly thought provoking. A book that I will come back to and will read the parts as separate novels now that I have the whole sweep of the thing in my head. A flawed masterpiece