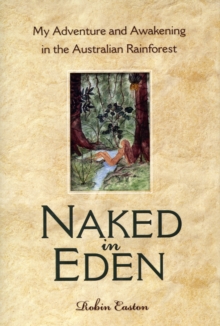 Naked in Eden : My Adventure and Awakening in the Australian Rainforest
Paperback / softback
Description
'You must be mad to live in the bloody jungle, mates.' Not mad exactly, just disconnected and seeking more meaning and adventure in their lives.
An eccentric free spirit who never quite fit in, Robin Easton saw her soul mate in Ian--a rugged, rowdy Aussie who wanted out of the confines of his family's business.
Together they planned their Great Escape: to live off the grid in a remote area of Australia's Daintree Rainforest. But as their Jeep wound its way closer to the tiny black dot on the map, Robin couldn't have fathomed just how the jungle would test her mentally, physically, and spiritually.
As she came face to face with her fears of deadly snakes, leeches, and man-eating crocodiles, she began to unravel the mysteries of life and death, love and loss, and nature and humankind.
Hidden in the forest mist, she discovered our biological relationship to the natural world and our unique place in it.
Information
Format: Paperback / softback
Pages: 384 pages
Publisher: Health Communications
Publication Date: 29/09/2010
Category: Autobiography: general
ISBN: 9780757315121