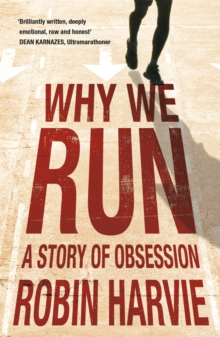 Description
Everyone can run. Whether it is a jog around the park on a Sunday morning, or lining up with 40,000 other people at the start of the London Marathon, all it requires is a pair of trainers and the open road.
But where does that road lead and why do we run at all?
Robin Harvie ran his first marathon after a bet, but it wasn't until he had ventured 6,000 miles into the extreme world of ultra-distance running to the start line of the oldest and toughest footrace on earth, that he found an answer.
As a hobby turned into a 120-mile-a-week obsession, so a way out of his daily routine evolved into a journey to discover who he was and what he was really made of. Through the scorching heat of the desert and into the darkest hours of the morning, Why We Run reveals the beating heart of the brutal and profoundly intoxicating experience of running.
If you have ever wondered what makes you lace up your trainers, and why you keep coming back for more, this is your story too.
Information
Format: Paperback
Pages: 304 pages, Illustrations
Publisher: Hodder & Stoughton General Division
Publication Date: 01/03/2012
Category: Memoirs
ISBN: 9781848541771
Other Formats
Paperback from £10.65
EPUB from £6.49
Free Home Delivery
on all orders
Pick up orders
from local bookshops
Reviews
Showing 1 - 1 of 1 reviews.
Review by LyzzyBee
16/06/2015
(13 September 2012)Second in a bunch of books bought at the Book People shop on the local High Street – and I don't think I'd even been to the dentist on that occasion. This is a dangerous book to read if you're contemplating extending your half marathon training to see how far you can run (building up gradually) and then considering a marathon. Or a good book. I'm not sure.Harvie had done a few marathons when he decided to join the rather alarming world of Ultra running – running distances longer than the 26.2 mile classic marathon. He sets his sights on the Spartathlon, oddly enough taking place in Greece, but does a lot of interesting races in between, decides fell running is a bit too scary, trains maybe a little too hard and obsessively, worries his wife and worries himself that he's running away from issues in the family. All of this is set amongst a useful if slightly too well-known to someone who's read a few long-distance running book) potted history of the marathon and beyond, references to other great books on the topic from Haruki Murakami ("What I Talk About When I Talk About Running") and Richard Askwith ("Feet in the Clouds") among others, and some amazing, visceral descriptions of his own long training runs or race attempts. There was no greater end than that which this journey was satisfying, although there were plenty of other things I could have spent the last twelve months doing that would have been infinitely more pleasurable. (p. 257)These passages are the stars of the book and really get into the nitty-gritty of what it feels like to be a distance runner. They inspire empathy, wincing and the desire to emulate his trials and achievements – after all, pretty well anybody can train for a marathon and there's a joy in pushing yourself past your limits (he makes an interesting point about it being fair enough to praise the person who only ever runs one marathon because that is the pinnacle of their physical achievement, but if someone does more than one, they can probably do a bit more – do other runners agree with this?). His descriptions of attempting the Spartathlon are uncomfortable but unforgettable reading. Did he make it to the end? You'll have to read the book to find out!Oh – and there's a quotation from Iris Murdoch on page 202, about attention teaching us how to observe things without greedily appropriating them for ourselves", although this is tantalisingly not referenced. But one for my friend, Pamela, who likes to collect references to IM in what we read!
Also by Robin Harvie