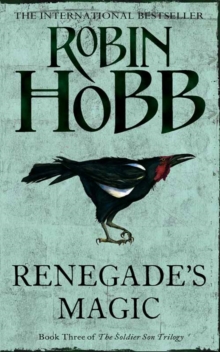 Renegade's Magic
Paperback
Description
The final book in the Soldier Son from the author of the Tawny Man and Farseer trilogies, following on from the bestselling Shaman's Crossing and Forest Mage.The people of Gettys remember the death of their cemetery soldier vividly.
They remember believing him guilty of unspeakable crimes, condemning him, and then watching as other men of his unit beat him until he no longer drew breath.But Nevare Burvelle didn't die that day, though everyone believes they saw it happen.
He was cornered by a power far more intractable than an angry mob.When he was a boy, the magic of the Specks - the dapple-skinned tribes of the frontier forests - claimed Nevare as a saviour; severing his soul in two, naming his stolen half Soldier's Boy and shaping him into a weapon to halt the Gernian expansion into their lands and save their beloved ancestor trees.Until now Nevare has defied the magic, unable to accept his traitorous fate.
But the magic has won: it has extinguished his once golden future, devastated his family and has now turned his own people against him.
Faced with endangering the only loved-ones he has left, Nevare has no choice but to surrender to its will and enter the forest.But surrendering to his Speck destiny is only the beginning of his trials.
Before he submits completely, Nevare makes one desperate last attempt to deter the Gernians from the Barrier Mountains without causing them harm.
But the magic accepts no compromise. Exhausted, Nevare can no longer suppress his traitorous Speck self, Soldiers Boy.
Losing control, he becomes a prisoner in his own body; able only to watch helplessly as his other half takesSoldier's Boy is determined to stop the Gernian expansion at all cost, and unlike Nevare, he has no love, nor sympathy for his spirit-twin's world.
Information
Format: Paperback
Pages: 768 pages
Publisher: HarperCollins Publishers
Publication Date: 01/07/2008
Category: Fantasy
ISBN: 9780007196203
Other Formats
EPUB from £6.49
eAudiobook MP3 from £21.59
Free Home Delivery
on all orders
Pick up orders
from local bookshops
Reviews
Showing 1 - 1 of 1 reviews.
Review by lewispike
16/06/2015
This is an odd book to review. On a tactical scale - words, sentences, paragraphs I found that it was quite engaging. When I was reading it, I liked reading it. However when I wasn't reading it found it quite an effort to go back to.The story of Nevarre continues, this time with him living wholly among the Speck. There is a LOT of writing about food and eating: I'd suggest avoiding this book if you're on a diet. Nevarre-the-Speck tries to rescue them from the intruders from Gettys with very mixed success. Finally they realise they must marry his two halves for the magic to work properly. They sort of manage this, everything sorts itself out and the Great Man he has become dies.The pesky God of Balances comes along and parts of Nevarre go on, find Amzil, marry her and you get the impression lives happily ever after.I've tried to work out why I don't like this in the overall sense. There are a few reasons.First I get the impression it's a story that ought to have been told in a single book, it could have been great told small and tight, but it was padded into the inevitable fantasy trilogy at someone's behest. This leaves it slow and meandering.Second, there are some messages about culture clashes in there. That's fine, good even. Most of them are, rather disappointingly, completely laid out in front of you at various points, explicitly. The problem is that it feels as if there's a mish-mash of cultures to have the clashes between. Each of the cultures has identifiable bits of several real cultures mixed into it, and this makes them feel spongy and not quite comfortable in themselves which also makes their inability to deal with each other feel off.Third I don't like the hero. I don't respect him. Ms. Hobb has tried to lay out how his past has affected him and made him into these characters that I don't like and whilst I buy the explanation it doesn't really help. If you're going to read 2,000 pages about someone liking them or at least being interested in them helps I find. If you've managed to get through the first two books, this is better than Forest Mage, and it completes the story, but I wouldn't suggest starting the series. In fact you could probably pick this book up and get most of the back story and have a much more satisfying experience.
Also in the The Soldier Son Trilogy series | View all