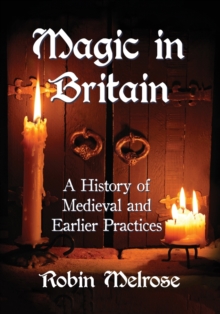 Magic in Britain : A History of Medieval and Earlier Practices
Paperback / softback
Description
Magic, which is probably as old as humanity, is a way of achieving goals through supernatural means, either benevolent (white magic) or harmful (black magic).
Magic has been used in Britain since at least the Iron Age (800 BC- AD 43) - amulets made from human bone have been found on Iron Age sites in southern England.
Britain was part of the Roman Empire from AD 43 to 410, and it is then we see the first written magic, in the form of curse tablets.
A good deal of magic involves steps to prevent the restless dead from returning to haunt the living, and this may lie behind the decapitated and prone (face down) burials of Roman Britain.
The Anglo-Saxons who settled in England in the 5th and 6th century were strong believers in magic: they used ritual curses in Anglo-Saxon documents, they wrote spells and charms, and some of the women buried in pagan cemeteries were likely practitioners of magic (wicca, or witches).
The Anglo-Saxons became Christians in the 7th century, and the new "magicians" were the saints, who with the help of God, were able to perform miracles.
In 1066, William of Normandy became king of England, and for a time there was a resurgence of belief in magic.
The medieval church was able to keep the fear of magic under control, but after the Reformation in the mid 16th century, this fear returned, with numerous witchcraft trials in the late 16th and 17th centuries.
Information
Format: Paperback / softback
Pages: 270 pages, 39 photographs
Publisher: McFarland & Co Inc
Publication Date: 30/04/2018
Category: History of religion
ISBN: 9781476674001
Free Home Delivery
on all orders
Pick up orders
from local bookshops