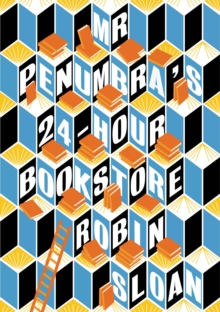 Mr Penumbra's 24-hour Bookstore
Paperback
Description
Recession has shuffled Clay Jannon out of his life as a Web-design drone and serendipity coupled with sheer curiosity has landed him a new job working the night shift at Mr. Penumbra's 24-Hour Bookstore. And it doesn't take long for Clay to realize that the quiet, dusty book emporium is even more curious than the name suggests.
There are only a few fanatically committed customers, but they never seem to actually buy anything, instead they simply borrow impossibly obscure volumes perched on dangerously high shelves, all according to some elaborate arrangement with the eccentric proprietor.
The store must be a front for something larger, Clay concludes, and soon he has plugged in his laptop, roped in his friends (and a cute girl who works for Google) and embarked on a high-tech analysis of the customers' behaviour.
What they discover is an ancient secret that can only be solved by modern means, and a global-conspiracy guarded by Mr. Penumbra himself... who has mysteriously disappeared.
Information
Format: Paperback
Pages: 304 pages
Publisher: Atlantic Books
Publication Date: 01/08/2013
ISBN: 9781782391197
Other Formats
Paperback from £7.05
EPUB from £4.79
Free Home Delivery
on all orders
Pick up orders
from local bookshops
Reviews
Showing 1 - 5 of 5 reviews.
Review by foolplustime
16/06/2015
I was really hopeful about this book. I expected a cross between Rivers of London and Douglas Coupland set in a book shop; or Scarlett Thomas and Douglas Coupland set in a book shop; instead, it's a cross between Dan Brown and somebody who admires Douglas Coupland, also there's a book shop.It started out really good. Then it gradually became okay. Then, at 83%, something happens which feels like it must be a reference to a book or something else I'm unfamiliar with because the only other explanation is that the author had some major plotting problems. That is not my biggest criticism about the book. I'm going to mention it here, so if you don't want to know, go and play elsewhere, 'k?SPOILERS FROM HERE-ONOkay. So there's a code. To try and break the code, the characters utilise Google. All of it. And Google can't crack the code.Later in the book, the code is cracked (and I have my own complaints about that. I create vectors, I actually know what I'm talking about on this matter) and it turns out to be a substitution code.Now, in case you don't know, substitution codes are easy to crack. Substitution codes which only use a single letter to substitute another are especially simple. In this book, the entire power of Google cannot crack this simple substitution code. It could not even come up with any suggestions. That's not how things work in real life but the outcome of this book hinges on it. And that is why I gave this book two stars.
Review by zjakkelien
16/06/2015
This one seriously deserves its five stars. What a wonderful book! Although technically this may not be fantasy, I think <b>Mr. Penumbra's 24-hour bookstore</b> will appeal to fantasy fans, and others besides. It has the magic of an old bookstore and a secret society. It has the magic of computers and Google. And it has the magic of friendship and heart. All in all, it's great.
Review by Elainedav
16/06/2015
What a great book! I picked this up from the library as I kept seeing it mentioned on different websites and by book groups. It's a great story combining ancient, unique books from the 'way back list' with up to date technology, brought about by the main character meeting a girl who works for Google. I was grabbed by the storyline from the first couple of pages. The characters are 'real', varied and interesting. The plot is absolutely not predictable and the storyline gradually unfolds and keeps you hooked until the end!
Review by infjsarah
16/06/2015
This is a light hearted book and a light read and I enjoyed it a lot. I love books but I love tech as well and both are stars in this novel. It was readable with fun characters. Some of the tech was - er no, I don't think we can do that yet but we probably will.
Review by SandDune
16/06/2015
I've seen this described as a feelgood book so often on LT over the last few months that it seemed like a good choice to read when I feeling ill. But although I'd seen it mentioned on a lot of occasions I realised that I had no idea what it was actually about, apart from well ... a bookstore. I'd pictured some fantasy type bookstore, urban fantasy probably, but definitely with some magic in it, maybe a touch of the Neil Gaiman's. (In my defence I'd like to say that the book doesn't seem to be anything like as big in the UK as it is in the US, so it was easier to avoid spoilers). So the absence of magic came as something of a surprise, as did the presence of loads of technology and Google. Clay Jannon is an unemployed designer with a sideline in websites who loses his job at NewBagel in the great food-chain contraction sweeping through America in the first years of the 21st Century. Finding a Help Wanted advert at Mr Penumbra's 24-hour book store he finds himself working the night shift. But Mr Penumbra's is no ordinary book store: despite being three stories high there are no actual floors and so a major requirement of the job is a good head for heights to allow for ladder climbing. Very few of the books are ones that any would want to buy and Clay soon discovers that all of the rest (which he christens the Waybacklist) are written in code, don't seem to exist on the internet and are certainly not available on Amazon.  And the Waybacklist is not for sale, only available for borrowing by a certain slightly strange group of customers belonging to Mr Penumbra's private library. And rather than just recording their usual library number when they borrow a book, Clay finds that he is expected to write a detailed description of the borrower each time they appear: <blockquote> <I>'You must keep precise records of all transactions. The time. The customer's appearance. His state of mind. How he asks for the book. How he receives it. Does he appear to be injured. Is he wearing a sprig of rosemary in his hat. And so on.I guess under normal circumstances this would feel like a creepy job requirement. Under the actual circumstances - lending strange books to stranger scholars in the middle of the night- it feels perfectly appropriate.'</I></blockquote>But when Clay starts to get bored in the long hours when there are no customers and decides to secretly computerise the bookstore's records his discovers that the bookstore has an even stranger secret than he had previously believed. One which requires him to depart on a quest to New York with those essential companions of any quest, a wizard and a hero, in tow. Actually the wizard is a girl from Google and the hero is his best friend from school ... but it's a quest nonetheless.This was a fun read, but I didn't quite love it the way that some people clearly do. Not sure why not, but it just didn't have that certain something as far as I was concerned.