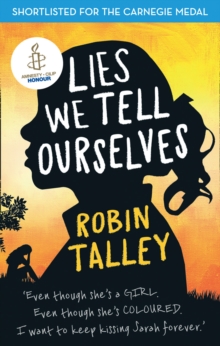 Lies We Tell Ourselves : Winner of the 2016 Inaugural Amnesty Honour
Paperback
Description
Lie #1: I'm not afraid Lie #2: I'm sure I'm doing the right thing Lie #3: I don't care what they think of me It's 1959.
The battle for civil rights is raging. And it's Sarah's first day of school as one of the first black students at previously all-white Jefferson High.No one wants Sarah there.
Not the Governor. Not the teachers. And certainly not the students - especially Linda, daughter of the town's most ardent segregationist.Sarah and Linda are supposed to despise each other.
But the more time they spend together, the less their differences matter. And both girls start to feel something they've never felt before.
Something they're determined to ignore. Because it's one thing to stand up to an unjust world - but another to be terrified of what's in your own heart. `The main characters are terrific in what is a moving YA novel. And an important one.' - The Telegraph' This is so thought-provoking it almost hurts to read it, yet every word is needed, is necessary and consequently this is a novel that lingers long after you've finished it' - Lovereading `This is an emotional and compelling read that I did not want to put down.
It is [...]beautifully written and the tension just simmers on the pages.' - Bookbabblers `This book packs a very powerful punch' - Historical Novel Society `With great characterisation, tough issues covered, and a plot which had me guessing right up until the last pages, this is a must-read.
Massively recommended!' - The Bookbag `This exceptional novel of first love and sexual awakenings is set against a backdrop of shocking racism and prejudice.
It is incredibly well written as the tense, riveting story seamlessly combines fiction with historical fact.' - Booktrust `Every now and then a Young Adult book comes along that I want to push into every readers hands both young and old and Lies We Tell Ourselves is that book for 2014' - Jess Hearts Books `Talley has mixed two controversial topics together to create a firecracker of a story' - Cheryl M-M's Book Blog *A Goodreads Choice Awards semi-finalist 2014*
Information
Format: Paperback
Pages: 384 pages
Publisher: HarperCollins Publishers
Publication Date: 03/10/2014
Category: Romance
ISBN: 9781848452923
Free Home Delivery
on all orders
Pick up orders
from local bookshops
Reviews
Showing 1 - 1 of 1 reviews.
Review by DubaiReader
16/06/2015
Black students fight for the right to attend all-white schools.This is an interesting Young Adult book about the struggles the African descendants had when they first integrated white schools in the US in the 1950s. If it had stayed on topic I might well have been giving five stars, unfortunately the impact was lost with the introduction of a homosexual element, and the book became about two issues, each diluting the other.A group of ten black youngsters are the first to join the exclusively white Jefferson High. They had all been happy, high achievers in their previous all-black school, but find themselves relegated to the remedial classes in Jefferson High. They are constantly heckled, nudged and worse, but their parents encourage them to persevere in the name of integration.The novel covers their first year in the school and we follow the ten students through to graduation. How many of them can take the pressure?Sarah is one of the two narrators, she joins the school with her younger sister, Ruth. The second narrator is Linda, a 'popular' white girl, whose father is one of the most outspoken opponents of integration. They are forced to undertake a French project together and both reluctantly learn a lot from each other. Both are pawns of their parents, but can they shake off these influences and do what is truly right for them?Similar children must have endured such treatments throughout the States, as they stood up for their rights to a good education and fought for their peers in the future. It was horrendous how unwavering their opponents were, never easing off for an entire year. The book left me with a profound respect for them all, whether they each succeeded, or not.