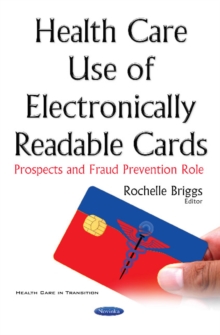 Health Care Use of Electronically Readable Cards : Prospects & Fraud Prevention Role
Paperback / softback
Description
Proposals have been put forward to replace the current paper Medicare cards, which display beneficiaries Social Security numbers, with electronically readable cards, and to issue electronically readable cards to providers as well.
Electronically readable cards include cards with magnetic stripes and bar codes and smart cards that can process data.
Proponents of such cards suggest that their use would bring a number of benefits to the program and Medicare providers, including reducing fraud through the authentication of beneficiary and provider identity at the point of care, furthering electronic health information exchange, and improving provider record keeping and reimbursement processes.
This book evaluates the different functions and features of electronically readable cards; examines the potential benefits and limitations associated with the use of electronically readable cards in Medicare; examines the steps CMS and Medicare providers would need to take to implement and use electronically readable cards; and describes the lessons learned from the implementation and use of electronically readable cards in other countries.
Information
Format: Paperback / softback
Pages: 100 pages
Publisher: Nova Science Publishers Inc
Publication Date: 01/12/2016
Category: Medical & healthcare law
ISBN: 9781536101164