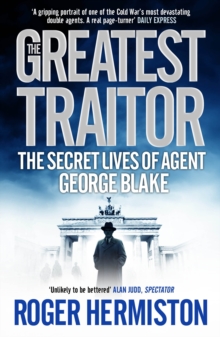 The Greatest Traitor: The Secret Lives of Agent George Blake
Paperback
Description
'Sober, accurate and all the more thrilling for it.
The best thing on Blake that we are likely to get for a very long time.' JOHN LE CARRE 'At every turn the gripping writing reminds you of a world of spies and betrayal that was so much a part of life in post-war Europe...Superb from start to finish.' JEREMY VINE ***** ' Hermiston offers a fascinating account of a life in which communism was the only constant.
The jailbreak episode is a masterpiece of narrative tension.' DAILY EXPRESS On 3 May 1961, after a trial conducted largely in secret, a man named George Blake was sentenced to an unprecedented forty-two years in jail.
At the time few details of his crimes were made known.
By his own confession he was a Soviet spy, and rumours later circulated that his actions had endangered British agents, but the reasons for such a severe punishment were never revealed.
To the public, Blake was simply the greatest traitor of the Cold War.
Yet, as Roger Hermiston reveals in this thrilling new biography, his story touches not only the depths of treachery but also the heights of heroism. In World War II the teenage Blake performed sterling deeds for the Dutch resistance, before making a dramatic bid for freedom across Nazi-occupied Europe.
Later recruited by British Intelligence, he quickly earned an exemplary reputation and was entrusted with building up the Service' s networks behind the Iron Curtain. And, following a posting to Seoul, he endured intense hardship, when captured by North Korean soldiers at the height of their brutal war with the South.
By the time of his release in 1953, Blake was a hero, one of the Service' s brightest and best officers.
But unbeknownst to SIS they were harbouring a mole. Week after week, year after year, Blake was assiduously gathering all the important documents he could lay his hands on and passing them to the KGB.
Drawing on hitherto unpublished records from his trial, new revelations about his dramatic jailbreak from Wormwood Scrubs, and original interviews with former spies, friends and the man himself, The Greatest Traitor sheds new light on this most complex of characters and presents a fascinating shadow history of the Cold War.
Information
Format: Paperback
Pages: 384 pages, 16-page b-w plates section
Publisher: Aurum Press
Publication Date: 15/03/2014
ISBN: 9781781311639
Free Home Delivery
on all orders
Pick up orders
from local bookshops
Reviews
Showing 1 - 1 of 1 reviews.
Review by john257hopper
16/06/2015
This is a riveting biography of George Blake, the Secret Intelligence Service (MI6) officer who spied for the Soviet Union for several years in the 1950s, was discovered, tried and sentenced to the unprecedentedly long prison term of 42 years, sprung from Wormwood Scrubs five years later, and assisted to flee via East Germany to the Soviet Union, where he still lives today at the age of 92. His has been a fascinating life from its earliest days: the son of a British Jewish father and a Dutch mother, he was born and brought up in the Netherlands and never saw himself as British anyway. He helped the Dutch resistance under the Nazis, displaying a necessary predilection for subterfuge. He joined MI6 in the late 1940s and while working in South Korea was taken prisoner by the North Koreans during the war on the peninsula, when Kim Il Sung's forces at the height of their success swept south and captured the South Korean capital. During that time he offered his services to the Soviets, having become genuinely convinced that communism, for all its faults in practice, offered in principle a better and more just future for humankind. He was always clear that he spied on this basis and never for personal gain, so can be said to be, at one level, a man of principle, despite the damage that his actions caused for Western security and the probable (though not entirely proven) deaths of British agents. It was this feature, plus the length of his sentence, compared to the comparatively more lenient treatment of the Cambridge Five and the atomic spy Klaus Fuchs, that prompted sympathy from him on the inside and efforts by the peace campaigners Michael Randle and Pat Pottle, and petty criminal Sean Bourke, to spring him from prison and assist in his fleeing to the Soviet Union. Randle and Pottle were eventually tried for the springing much later in 1991, but acquitted by the jury. Blake settled into Soviet life better than Philby or Burgess (Maclean also settled in well) and married a Russian lady and had a son. As recently as 2007 he was awarded an Order of Friendship medal by Putin (an award that has also been bestowed on Prince Michael of Kent and Rowan Williams, among others). A fascinating story of the long, colourful and controversial life.