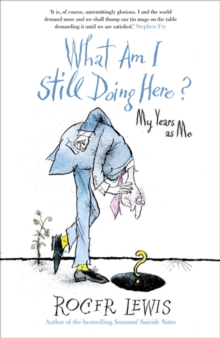 What am I Still Doing Here? : My Life as Me
Hardback
Description
'Unremittingly glorious. I and the world demand more and we shall thump our tin mugs on the table demanding it until we are satisfied.'Stephen FryLoveable...
Dreadful... Amazing... Learned... Baroque... Exquisite... Utterly wonderful... Uplifting... Stupendously Acute... Very scary... Genuinely mad...Having written acclaimed biographies of uncompromising and glittering geniuses such as Peter Sellers, Laurence Olivier, Carry On star Charles Hawtrey, and Anthony Burgess, of A Clockwork Orange fame, Roger Lewis, rotund, dark and difficult, has at long last stumbled upon the greatest monster of all - himself.As with bestselling and beloved Seasonal Suicide Notes, in this new book Lewis has produced a funny and appalling self-portrait, crammed with his clashes and frustrations.The calamities he describes, however, such as coming a pathetic fifth in the Oxford Chair of Poetry Election or throwing a party in what turned out to be a Cornish old peoples' home, are always offset by beautiful riffs - about Seville, a city he can't keep away from; or the train ride from Salzburg to Venice, where he stays in the restaurant car so long he alights in Zagreb by mistake; or the lush flowering magnolias he sees at Agatha Christie's house on the River Dart.It was when Lewis suggested in the press that Agatha Christie was a lesbian that the death threats began.Hearing the overture to Iolanthe played on Radio Three, and his own name mentioned by the announcer, Lewis is conveyed back to his extraordinary Welsh past, where Gilbert & Sullivan was put on in the village hall, and where Roger Lewis knew at once that his destiny was to become Evil Fairy, complete with wand.Who is to say he has not succeeded in this ambition?What Am I Still Doing Here? will win its author hordes more passionate devotees.'There is only one writer alive today who is as mordantly funny as Kingsley Amis, as acute about human misery as Philip Larkin, and as brilliant in skewering pretension and vanity as both.
His name is Roger Lewis... Nothing funnier or wise has been published all year.
If you love someone buy them this book. If they don't appreciate the gift then purge them from your life.' Mail on Sunday'The funniest book of the year.
What Am I Still Doing Here? by Roger Lewis is a wonderfully splenetic journal - part-diary, part-diatribe - by a man who rages with an indignant eloquence against the modern world.
But Lewis' furious rants are never far from hilarity, and his anger is redeemed by flashes of pur poetry.
Like all the best comics, Lewis is a disappointed optimist rather than an outright cynic, and it's this thwarted idealism which makes this such a liberating, life-affirming read.'Independent
Information
Format: Hardback
Pages: 384 pages
Publisher: Hodder & Stoughton
Publication Date: 13/10/2011
Category: Autobiography: literary
ISBN: 9781444708684
Other Formats
Paperback / softback from £7.89
EPUB from £3.99