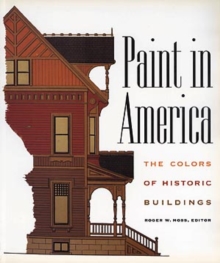 Paint in America : Colours of Historic Buildings
Paperback
Description
Since the time of the Lascaux Caves (ca. 10,000 BC), people have been decorating and protecting their shelters with paint.
The painter, according to one Victorian writer, was the most welcome of workers.
The use of paint to achieve these twin goals - beauty and practicality - is described in this text.
It should be a useful guide for anyone interested in restoring exteriors and interiors to their historically appropriate colours. Written by architectural historians, paint conservators, and paint investigators, this book includes: a description of historic paints and painting techniques; the process of paint research at sites such as Mount Vernon and Colonial Williamsburg; an explanation of modern paint analysis; an outline of the basic nature of paint; and sections presenting a newly authenticated palette of colonial paint colours as well as a list of the most common pigments used from 1600 - 1850.
Information
Format:Paperback
Pages:320 pages, 90 colour illustrations; 25 b&w illustrations
Publisher:John Wiley and Sons Ltd
Publication Date:16/11/1995
Category:
ISBN:9780471144113