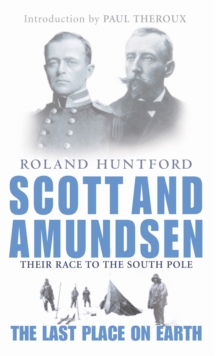 Scott and Amundsen : The Last Place on Earth
Paperback
Description
At the beginning of the twentieth century, the South Pole was the most coveted prize in the fiercely nationalistic modern age of exploration. In the brilliant dual biography, the award-winning writer Roland Huntford re-examines every detail of the great race to the South Pole between Britain's Robert Scott and Norway's Roald Amundsen. Scott, who dies along with four of his men only eleven miles from his next cache of supplies, became Britain's beloved failure, while Amundsen, who not only beat Scott to the Pole but returned alive, was largely forgotten. This account of their race is a gripping, highly readable history that captures the driving ambitions of the era and the complex, often deeply flawed men who were charged with carrying them out.THE LAST PLACE ON EARTH is the first of Huntford's masterly trilogy of polar biographies. It is also the only work on the subject in the English language based on the original Norwegian sources, to which Huntford returned to revise and update this edition.
Free Home Delivery
on all orders
Pick up orders
from local bookshops
Reviews
Showing 1 - 2 of 2 reviews.
Review by Mockers
16/06/2015
Timely revisiting of the Scott myth. Was Scott a great explorer or a complete idiot? Huntford goes pretty much for the latter judgement. Like a trek to the South Pole, it's sort of heavy going, the detail is superb, you can almost taste the dog cutlets with Amundsen and feel the cold kill you with Scott.
Review by ecw0647
16/06/2015
I've always been struck by the fact that the British revere Scott, a miserable failure, in my estimation. He was smug, didn't do his homework, and wasted resources on a doomed effort. Amundsen, on the other hand, studied the Eskimos to learn how to survive in harsh arctic conditions, learned how to use dogs, including eating them as they went along, and he breezed to the South Pole and back almost as easily as a walk in the park. Scott insisted on taking mules, which required that he haul hay along. Just ridiculous.