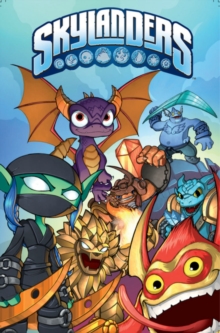 Description
Join Spyro, Pop Fizz, Trigger Happy, Stealth Elf, Deja Vu, Fist Bump,Jawbreaker, Blades and more of your favorite characters in these action-packedadventures!From the world of Skylanders Trap Team discover the historyof the Trap Masters and Kaos' plot for Traptanium that ties right into thevideo game.
Marvel as your favorite characters face grueling tests, outrageouschallenges, and the vilest of villains to gain Champion status!
Plus, one ofSpyro's most malevolent and powerful enemies makes his Skylanders debut!And nothing Spyro, Hex, Cynder, or the rest of the Skylanders can do willprepare them for the evil that is about to be unleashed!
The return of the firstpurple dragon, MALEFOR!
Free Home Delivery
on all orders
Pick up orders
from local bookshops