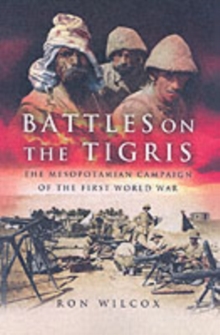 Battles on the Tigris : The Mesopotamian Campaign of the First World War
Hardback
Description
In 1914 the British expedition to Mesopotamia set out with the modest ambition of protecting the oil concession in Southern Persia but, after numerous misfortunes, ended up capturing Baghdad and Northern Towns in Iraq.
Initially the mission was successful in seizing Basra but the British under Generals Nixon and Townshend, found themselves drawn North, becoming besieged by the Turks at Kut.
After various failed relief attempts the British surrendered and the prisoners suffered appalling indignities and hardship, culminating in a death march to Turkey.
In 1917 General Maude was appointed CinC but, as usual in Iraq, policy kept changing.
Hopes that the Russians would come into the war were dashed by the Revolution. Operations were further frustrated by the hottest of summers.
Fighting against the Turks continued right up to the Armistice.
The conduct of the Campaign was subject to a Commission of Inquiry which was highly critical of numerous individuals and the administrative arrangements.
Information
Format: Hardback
Pages: 224 pages, Text and plate 16p
Publisher: Pen & Sword Books Ltd
Publication Date: 08/02/2006
Category: European history
ISBN: 9781844154302
Free Home Delivery
on all orders
Pick up orders
from local bookshops
Reviews
Showing 1 - 1 of 1 reviews.
Review by Shrike58
16/06/2015
There's a legitimate need for a modern account of the British campaign in Mesopotamia in World War I; sad to say this book really isn't it. Oh Wilcox has more then enough detail, seeing as he based his study on the British official history, but there are just little statements here and there that make one wince, and then make one wonder what else he misinterpreted. Examples off the top of my head include his throwaway comment about the how the Yezidi people of Iraq are "devil worshippers" or how when the Royal Navy forced these Turkish river defenses on the final push to Baghdad Wilcox comments that: "As a naval action it must have been unique." This is only if you have very carefully avoided studying the American Civil War. Wilcox also seems to have been very impressed with himself for the superficial comparisons he makes between Mesopotamia in World War I and Iraq now. Superficial might be the most damning phrase you could throw at Wilcox, as his bibliography might be acceptable for an Osprey booklet, but that's about it.As for what Wilcox gets right, his prose is vigorous and his account of the seige of Kut (the linchpin of this book) is gripping. His emphasis on bad planning and logistics is also welcome in a popular account. Again, Wilcox engenders enough doubts with the attitude he radiates that I do wonder what mistakes a specialist would find that I'm not.