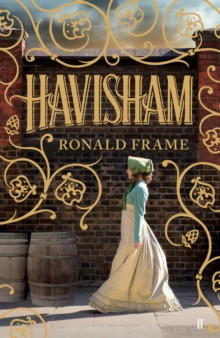 Description
There was a delicate tracery of gold foil on the back of the dress.
How strange that such a consummately made garment should be worn for this one day only.
But, as every girl growing up understood, her wedding day was the most significant she would know: a woman's crowning glory.
Catherine Havisham was born into privilege. Handsome, imperious, she is the daughter of a wealthy brewer, and lives in luxury in Satis House.
But she is never far from the smell of hops and the arresting letters on the brewhouse wall - HAVISHAM.
A reminder of all she owes to the family name and the family business.
Sent by her father to stay with the Chadwycks, Catherine discovers literature, music and masquerades - elegant pastimes to remove the taint of new money.
But for all her growing sophistication Catherine is anything but worldly, and when a charismatic stranger pays her attention, everything - her heart, her future, the very Havisham name - is vulnerable.
It is a masterly tribute to one of Dickens' most celebrated and iconic characters.
Information
Format: Hardback
Pages: 288 pages
Publisher: Faber & Faber
Publication Date: 01/11/2012
ISBN: 9780571288281
Other Formats
Paperback from £7.15
EPUB from £5.58
Free Home Delivery
on all orders
Pick up orders
from local bookshops
Reviews
Showing 1 - 4 of 4 reviews.
Review by john257hopper
16/06/2015
As its title suggests, this is a spin off novel about the life of one of Dickens's most memorable fictional creations from Great Expectations, Miss Havisham, the aged spinster who was jilted on her wedding day and shut herself off from the world in all her decaying wedding finery. As she is the most intriguing character in what is my favourite Dickens novel, I expected this to be a captivating read. So it was, but only in parts; it contained some flaws that let it down for me and prevented it from being the gem it could have been. It was certainly a slow starter, not necessarily a criticism, but the first 40% or so could almost have been lifted from an early 19th century novel (with the clashing exception of a sex scene), focusing on Miss Havisham's relationship with her brewer father and her growing up and entering polite society. She is jilted by Compeyson just over half way through the novel and this chapter (30) is very moving and dramatic. However, this is where a major flaw begins. It is clear from Dickens's novel that, when she is jilted, she immediately cuts herself off from society and enters her world of gloom and decay. In Mr Frame's novel, though, after a few days grieving (wearing her wedding dress) she picks herself up partially and returns to run her brewing business, uncovering growing signs of Compeyson's siphoning of funds to support her own half brother Arthur's gambling debts. She goes in search of her ex-fiance and tracks him down in Norwich, only to find that he has now enveigled into marriage her only real childhood friend, Sally. It is this betrayal that causes her to return to Satis House and shut herself off, abandoning the brewery and never again looking on the light of the sun. (She actually has duplicate wedding dresses made here, so it isn't the original she is wearing when she meets Pip). Pip comes into the novel and we see from Miss Havisham's point of view how she educates Estella to do to other men what Compeyson did to her, having become a machine for exacting revenge against the entire male species. Finally, she dies of burns from the accidental fire, but survives a little longer to regret how she has perverted her life and become like her former tormentor.I am glad I read this. It is well written and clearly the author has considerable literary talent (although he gets a bit carried away at times). We learn a lot about Miss Havisham's family history and especially about her father and half brother Arthur (offspring of her father's secret relationship with their housekeeper), though oddly the Pockets are hardly mentioned. I was rather annoyed by the inconsistencies, so this gets a somewhat ambiguous rating of 3.5/5
Review by AdonisGuilfoyle
16/06/2015
Great Expectations is one of the few Dickens' novels I have actually read (sorry, Charles), so I always find myself tempted by 'parallel novels' which explore - or claim to - the familiar characters from the original story. Havisham is certainly better than Estella by Alanna Knight, but Ronald Frame's perfunctory prequel is more style than substance, and offers no new insight into the bitter and decayed Miss Havisham. He ticks all the boxes for updating the classics - first person narrative, modern heroine, adult themes - without really creating a sympathetic character or an interesting backstory.Catherine Havisham is a mug. She is gulled by almost everyone she meets, including her infamous fiance, Charles Compeyson, despite setting herself up to be a strong woman, taking control of her own life and her father's brewery. Instead of inviting the reader to view Catherine's claustrophobic world through her own eyes, however, Frame blathers on in his posturing prose, quoting Latin and padding out paragraphs by spouting poetry, and kills the connection. While Catherine is cultivating Sally, her proto-Estella, in the first few chapters, there is a glimmer of personality, but the young Miss Havisham soon descends into insanity, and Frame into cliches. Also, Catherine's aborted relationship with Compeyson, which should be the linchpin of the plot, surely, is over before any depth of feeling between them is really established. Suddenly we're back to the beginning of Great Expectations, and the (now randomly incontinent) Miss Havisham is grooming Estella to break Pip's heart. A good story, but told better elsewhere.The danger with novels like this is the thin line between creating a new layer and merely cashing in on the original. From a gripping opening line - 'I killed my mother' - and the potential to really bring Miss Havisham's twisted story to life, Frame takes the easy route and doesn't really say anything. Great timing, though, with yet another film adaptation of Great Expectations hitting the big screen!
Review by Violetthedwarf
16/06/2015
I couldn't get into this. I knew the outcome of the main characters story already, and it ruined any sense of discovery and made it hard for me to connect. I also felt like Frame didn't get into the heads of his characters very well. <br/><br/>I put it down around the half-way point, and never picked it up again.
Review by Violetthedwarf
16/06/2015
I couldn't get into this. I knew the outcome of the main characters story already, and it ruined any sense of discovery and made it hard for me to connect. I also felt like Frame didn't get into the heads of his characters very well. <br/><br/>I put it down around the half-way point, and never picked it up again.