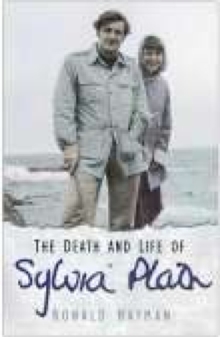 The Death and Life of Sylvia Plath
Hardback
Description
Biography of Sylvia Plath
Information
Format: Hardback
Pages: 288 pages
Publisher: The History Press Ltd
Publication Date: 01/01/1980
Category: Biography: general
ISBN: 9780750934220
Free Home Delivery
on all orders
Pick up orders
from local bookshops
Reviews
Showing 1 - 1 of 1 reviews.
Review by jillianmarie
16/06/2015
The book opens with an account of her death which the reviewers at the Sunday Times' blurb say will drive you to tears, it made me feel uncomfortable, why was I reading a detailed account of someone's suicide which made me question myself why do I read accounts of Jack the Ripper Murders when I wouldn't dream of reading books on the Yorkshire Ripper or Myra Hindley or pick up a so called 'misery-memoir.' What this book highlighted was the myth that is created by death and the question of public ownership. I think the author's intention was to stay, as objective as possible and I liked the way he linked Plath's life to her poetry though sometimes these links felt a little tenuous as this made it feel less of a biography of a suicide and more of a biography of a poet. Initially as a biographer Plath's mental health problems were clearly explained and in a balanced way, the biographer didn't blame her mother, just explained how Plath herself blamed her mother, her father and her upbringing after all Warren her brother never suffered the same issues as his sister. Her childhood and adolescence are explained in reference to her poetry.When Plath meets Hughes is where the biographer gets confused initially he blames Plath for her encouragement of Hughes' violence almost accuses her of making him do it. This is one of them most shocking passages I have read as he describes Plath as sitting in front of her mirror proud of her bruises, whether or not this is how Plath expresses it in her journals this does not excuse the violence (if it indeed happened) or any excuse behind it, the author seems to think it was justified because Plath was so demanding and difficult firmly puts the blame on her and excuses Hughes. It seems rather than take the objective route that he had with Plath and her relationship with her mother, he now veers between blaming Plath then Hughes, placing the blame finally at the door of Hughes. The reason for his animosity to Hughes seems to be criticising Hughes for his lack cooperation with Plath (and Hughes) biographers, which as a biographer must be frustrating, no poetry is directly quoted just alluded to. The responsibility for Plath's suicide is squarely placed on Hughes and his family, and the portrait of Hughes following Plath's and then Assia's deaths is subsequently a grim one.What this book did which I liked was make me reassess why I was reading it? It's been years since I read the Bell Jar as a moody teenager obsessed with death and now as a 30 year old I just find it incredibly sad especially looking at pictures of a girl, my age who chose not to carry on. It also made me think as why I was reading this and I am as guilty as those who following Plath's death mythologized her because of the way she died, not because of her poetry which to be honest I have never really enjoyed.The book is called the life and death of Sylvia Plath there wasn't an equal balance between the life and death, I think I would have liked the author to have gone more into the mythology and 'cult' that emerged after her death and how people's opinions grew subsequently rather than a rather detailed description of her suicide where he threw up a number of questions which he then didn't address and a harsh critique of Hughes in his following marriages, poetry and dealing of the Plath estate, it often feels that the notion that Hughes wanted to protect his children is an alien idea to biographers, there view seems along with the public that once Plath put her poetry and prose out there it and her life and death became public property not that of Hughes and his family.