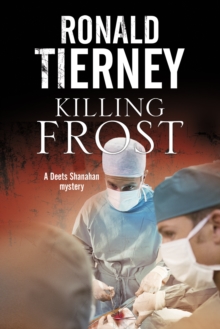 Killing Frost : Deets Shanahan's Final Case
Paperback / softback
Description
At seventy-two years old, Deets Shanahan is ready to 'check out' and embrace old age.
But, it seems his body (still functioning - just - after a bout of cancer) and Fate have other plans.
Awaiting the arrival of a mystery new client, who wouldn't take no for an answer, he spies her out of his window, making her way up his drive to the front door.
Suddenly, he sees her body jerk, go limp, then collapse in a pool of blood on his driveway - dead.
Why did the mystery client insist on meeting with Shanahan, but telling him nothing about the investigation he was to pursue?
If he could find out why she wanted to hire him, he would be one step closer to finding her killer.
Shanahan's search for answers will uncover a disturbing trail of greed, lies, ambition, family feuds and police corruption.
Twenty-five years ago Deets embarked on his first case.
This is his last; a touching story of age, infirmity - and love.
Information
Format: Paperback / softback
Pages: 192 pages
Publisher: Severn House Publishers Ltd
Publication Date: 27/08/2015
Category: Crime & mystery
ISBN: 9781847515834