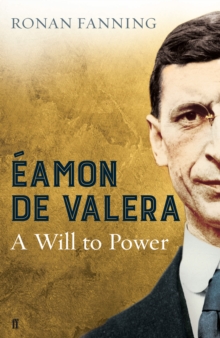 Eamon de Valera : A Will to Power
Hardback
Description
This title was shortlisted for the 2015 Bord Gais Energy Irish Book Awards - Nonfiction Book of the Year.
Eamon de Valera is the most remarkable man in the history of modern Ireland.
Much as Churchill personified British resistance to Hitler and de Gaulle personified the freedom of France, de Valera personified Irish independence.
From his emergence in the aftermath of the 1916 rebellion as the republican leader, he bestrode Irish politics like a colossus for more than fifty years. On the eve of the centenary of the Irish Revolution, one of Ireland's most eminent historians explains why Eamon de Valera was such a divisive figure that he has never - until now - received the recognition he deserves.
This biography reconciles an acknowledgement of de Valera's catastrophic failure in 1921-22, when his petulant rejection of the Anglo-Irish Treaty shaped the dimensions of a bloody civil war, with an appreciation of his subsequent greatness as the statesman who single-handedly severed the ties with Britain and defined nationalist Ireland's sense of itself.
Information
Format: Hardback
Pages: 400 pages
Publisher: Faber & Faber
Publication Date: 15/10/2015
ISBN: 9780571312054
Other Formats
Paperback from £8.65
Hardback from £20.75
EPUB from £7.19
Free Home Delivery
on all orders
Pick up orders
from local bookshops
Reviews
Showing 1 - 1 of 1 reviews.
Review by atticusfinch1048
27/01/2016
Éamon de Valera: A Will to Power – A Very Long ShadowRonan Fanning is Professor Emeritus of Modern History at University College, Dublin, a man who is required reading for anyone who wants to know and understand many aspects of Modern Irish History. He is the expert on the Irish Revolution, and the Irish State and its creation. Fanning in his latest book; Éamon de Valera: A Will to Power takes his excellent forensic skills to the longest shadow in Irish History of the Twentieth Century.What Ronan Fanning does is bring back to life the limitless confidence of de Valera back to life and also shows why he was one of the most unpleasant men, but that did not stop him leading Ireland on three occasions. He is often remembered in Britain for keeping Ireland neutral in the Second World War but at the same time as him being Taoiseach of Ireland drove to the German Embassy on May 2nd 1945 to sign a book of condolence opened by the Nazi Ambassador. He believed and stated he did nothing wrong.What Fanning does show in this majestic biography that it was de Valera's single mindedness that was able to translate a vision of Irish sovereignty from ideal to political reality. He is quite rightly considered the architect of the free Irish state, even though he was not too concerned with economic growth which he left to others.Fanning like previous biographers before him all examine the reputation of de Valera during which he attempts to be positive about him. What does come across is that de Valera cannot really compete with other European leaders that emerged during the century he makes him look like a very lucky second rate leader. He was totally disinterested in the well being of the Irish people and preferred to talk about an Irish ideal that never existed.What does come screaming through the biography is that it does not matter how positive that Fanning is about him, his subject comes across as a rather humourless, very arrogant, single minded and driven. Not the sort of person you would want to sit down with and have a pleasant evening over a glass or two.Éamon de Valera: A Will to Power, is an excellent biography written by a brilliant historian who knows his subject well and not afraid to tackle the various elephants in the room that are presented. The subject may not be the nicest of men but the way his biography is written makes it an engaging read.