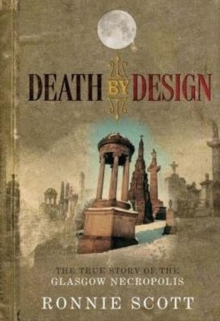 Death by Design : The True Story of the Glasgow Necropolis
Paperback
Description
Modelled on Pere Lachaise Cemetery in Paris, the Glasgow Necropolis first opened for burial in 1832 and has been a haunt for cemetery tourists ever since.
Dominated by its memorial obelisk to John Knox, the Necropolis is a living testament to Victorian funerary excesses and the nineteenth century's obsession with death, sometimes referred to as the Cult of the Dead.
Here, Ronnie Scott surveys the architecture of the Necropolis's monuments, graves and mausoleums and the architects who built them. And he also tells the stories of the folk who inhabit the Necropolis or City of the Dead, as the word necropolis translates.
Unlike Pere Lachaise, the Necropolis in Glasgow may not be able to boast of being the last resting place of anyone quite as famous as Oscar Wilde, Jim Morrison or Edith Piaf but it does have its share of celebrity corpses.
By the middle of nineteenth century, anyone who was anyone in Glasgow was buried there or had a Necropolis monument erected to their memory. The designer of the Royal Yacht Britannia, industrialists like Charles Tennent and Lord Kelvin, a Polish freedom fighter, they're all here and all have their own interesting stories - as do some of the rather less well-respected occupants, such as the professor of anatomy who encouraged body-snatching.
The architecture of the tombs, gravestones and memorials is as varied as the lives the citizens of the Necropolis led - and sometimes just as flamboyant.
The men, such as Alexander 'Greek' Thomson, who designed Glasgow's city-centre buildings during the period when it was second only to London in terms of prosperity also had a hand in creating the Necropolis and their life stories are covered here too.
Information
Format: Paperback
Pages: 128 pages, b/w photographs
Publisher: Black and White Publishing
Publication Date: 31/05/2005
Category: Landscape art & architecture
ISBN: 9781845020477
Free Home Delivery
on all orders
Pick up orders
from local bookshops