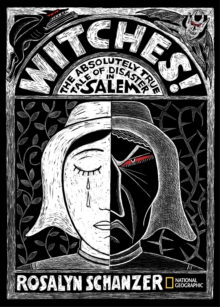 Witches : The Absolutely True Tale of Disaster in Salem
Hardback
Description
Tackling the same twisted subject as Stacy Schiff's much-lauded book The Witches: Salem, 1692, this Sibert Honour book for young readers features unique scratchboard illustrations, chilling primary source material, and powerful narrative to tell the true tale. In the little colonial town of Salem Village, Massachusetts, two girls began to twitch, mumble, and contort their bodies into strange shapes.
The doctor tried every remedy, but nothing cured the young Puritans.
He grimly announced the dire diagnosis: the girls were bewitched! And then the accusations began. The riveting, true story of the victims, accused witches, crooked officials, and mass hysteria that turned a mysterious illness affecting two children into a witch hunt that took over a dozen people's lives and ruined hundreds more unfolds in chilling, novelistic detail-complete with stylized black-white-and-red scratchboard illustrations of young girls having wild fits in the courtroom, witches flying overhead, and the Devil and his servants terrorizing the Puritans- in this young adult book by award-winning author and illustrator Rosalyn Schanzer.
Taught in middle and high schools around the U.S., the 17th-century saga remains hauntingly resonant as people struggle even today with the urgent need to find someone to blame for their misfortunes. Witches! has been honoured with many prestigious awards, including:.
Robert F. Sibert Informational Book Honour Book 2012 Notable Children's Books-ALSC NCSS-Notable Social Studies Trade Books in the Field of Social Studies 2012 School Library Journal Best Books of 2011 SLJ's 100 Magnificent Children's Books of 2011 Chicago Public Library Best of the Best 2011
Information
Format: Hardback
Pages: 144 pages
Publisher: National Geographic Kids
Publication Date: 13/09/2011
ISBN: 9781426308697
Free Home Delivery
on all orders
Pick up orders
from local bookshops
Reviews
Showing 1 - 5 of 11 reviews.
Previous | Next
Review by KristiBernard
16/06/2015
The invisible world surrounds us. It's everywhere. Things happen that are unseen. We can feel their presence but we can't see that unknown entity that lurks in the shadows. Is it demons or witches that are causing the hot flashes or cold sweats that we occasionally feel? What about violent fits? Do you know anyone whose had any of those? If so, you can be sure that witches are nearby, casing spells upon you with a single touch.In the mid 1600's Puritans were experiencing all sorts of pain, visions, fits and bizarre contortions, to name a few. The Puritans felt the natural world had been infiltrated by the Invisible world. These fears of the witch created new laws that made witchcraft punishable by death. Three women who were accused of casting spells were placed on trial. Hordes of crowds gathered to watch and witness the occasion. Midwives and homeless beggars were the first to be tried.Schanzer takes readers on a trip back to early Salem where history set the stage for the infamous Salem Witch Trials. Bible thumpers wreaked havoc accusing everyone and anyone who was pointed out. So many were pointing a finger to save themselves from accusation. It was so out of control that the King of England sent Governor Phips, who then established a Court of Oyer and Terminer. The new trials had begun.Black, white and red scratch board illustrations will have readers flipping and examining the pages and reading all of the researched facts that created such mass hysteria and death.
Review by jenunes
16/06/2015
Witches: The Absolutely True Tale of Disaster in Salem is a remarkable book that highlights the chronicles of time and events through the Salem Witch Trials. Right from the very beginning, the cover grabs your attention. Stark lithographic pictures done in black and white with red accents added, the images pop out at the reader, captivating and enthralling. The author did quite a bit of research it would seem and used the lithographic images as that was in fact what would have been used in this time period explored. The facts and stories themselves are straight forward, easy to read and digest before the reader moves on eagerly to the next section, the next page turning before you realize it and soon the book is one and the information absorbed. A rather small book, it nonetheless is packed with stories that are both fun and frightful, a good survey of the topic at hand. I could see having this book as a part of a library either in the classroom or in the school library and would recommend it for students in middle school or above.
Review by Sassy_Seshat
16/06/2015
A great companion to any historical fiction about the Salem Witch Trials, uses comic drawings and narrative language to explain the events as well as the worldviews, and social climate that caused them.
Review by aelizabethj
16/06/2015
this was darling. Maggie and I read together today in preparation of a project about the Salem witch trials. The black white drawings were amazing, reminiscent of woodcuts, and while the language wasn't as advanced as an adult novel, this held my interest until the end. Fantastic.
Review by Sullywriter
16/06/2015
A great title for readers not yet ready to tackle Marc Aronson's more scholarly Witch-Hunt: Mysteries of the Salem Witch Trials.