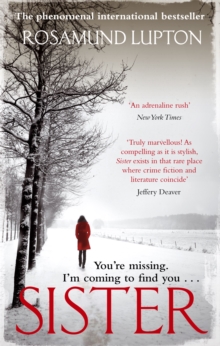 Description
Before there was The Girl on the Train, before there was Gone Girl, there was Rosamund Lupton's Sunday Times top-ten bestseller SisterTheir bond was unbreakable.The truth was unimaginable.When Beatrice gets a frantic call in the middle of Sunday lunch to say that her younger sister, Tess, is missing, she boards the first flight home to London.
But as she learns about the circumstances surrounding her Tess's disappearance, she is stunned to discover how little she actually knows of her sister's life - and unprepared for the terrifying truths she must now face.The police, Beatrice's fiance and even her mother accept they have lost Tess, but Beatrice refuses to give up on her.
So she embarks on a dangerous journey to discover the truth, no matter the cost.Praise for Sister:'Truly marvellous!
As compelling as it is stylish, Sister exists in that rare place where crime fiction and literature coincide' Jeffery Deaver'Nicci French via Ford Madox Ford.
Sister is so ably done, so perceptive about grief and guilt and self-delusion' John O'Connell, Guardian'With Sister, Lupton enters the highly charged ring where the best psychological detective writers spar, her hands raised in a victory clench . . . Like Kate Atkinson, Patricia Highsmith and Ruth Rendell, Lupton builds suspense not only around the causes and details of her story's brutal denouement, but also around the personalities . . . Both tear-jerking and spine-tingling' New York Times'Lupton's crisp insights into grief and familial guilt are married to a confidently executed plot.
Lupton's persuasive narrative voice is what keeps this classy debut (on track)' Emma Hagestadt, Independent'Stunningly accomplished from first page to last, this is the most exciting debut thriller I've read all year . . . Written with the power and panache of a young Daphne du Maurier; it's devastatingly good' Daily Mail'Rosamund Lupton's Sister grips like a vice' Sunday Times'Superb debut novel . . . the literary equivalent of "scream if you want to go faster" - and, just when you think things are slowing down to a peaceful, settled resolution, there's one more stomach-churning final turn in store' Radio Times'A remarkable piece of work . . . Lupton shrewdly and compassionately peels back the story's rich layers . . . providing a genuinely wicked sting at the end. But the key to Sister is Bee's voice: clear, strong, single-minded, and not to be denied' Seattle Times'The narrative process is so intimate and delicate . . . the stop-and-start associative movement of Bee's voice is, as a British review wrote, "utterly compelling". And the ending, however gently foreshadowed, is a stunner' Houston Chronicle'Lupton's remarkable debut is a masterful, superlative-inspiring success that will hook readers (and keep them guessing) from page one . . . A chilling, gripping, tragic heart-warming, life-affirming enigma of a story' Booklist (starred review) 'Fast-paced, absurdly entertaining . . . Along with a juicy mystery, it resounds with an authentic sense of sisterly love and loyalty' Boston Globe
Information
Format: Paperback
Pages: 384 pages
Publisher: Little, Brown Book Group
Publication Date: 27/08/2010
ISBN: 9780749942014
Free Home Delivery
on all orders
Pick up orders
from local bookshops