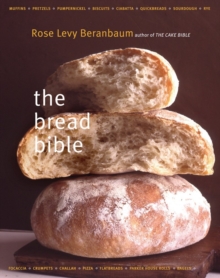 Description
The Bread Bible gives bread bakers 150 of the meticulous, foolproof recipes that are Rose Levy Beranbaum's trademark.
Her knowledge of the chemistry of baking, the accessibility of her recipes, and the incomparable taste of her creations make this book invaluable for home cooks and professional bakers alike. "Understanding" and "Pointers for Success" sections explain in simple, readable language the importance of various techniques and ingredients demonstrated in a recipe, providing a complete education in the art of baking, with thorough sections on types of flour, equipment, and other essentials.
Easy-to-use ingredient tables provide both volume and weight, for surefire recipes that work perfectly every time.
Recipes include bread made with yeast starters, quick breads, flatbreads, brioche, and much more.
From ciabatta, semolina, rye, and sourdough breads to bagels, biscuits, crumpets, and pizza dough, The Bread Bible covers all the baking bases.
Winner of the 2003 Gourmand World Cookbook Award, Best Bread Book
Free Home Delivery
on all orders
Pick up orders
from local bookshops
Reviews
Showing 1 - 5 of 9 reviews.
Previous | Next
Review by mcglothlen
16/06/2015
It's not that I don't like this one, it's just that there are better bread books that came before it. Sorry, Rose. I still love you!
Review by eumin
16/06/2015
This is the best book on bread baking I have ever seen. It is very technical, and at times the book reads more like a textbook in organic chemistry than a cook book. But the results are spectacular. Every single recipe I tried produced amazing bread.
Review by oriboaz
16/06/2015
A pretty good primer on breads, with a wide range of recipes. Written very clearly and in a most detailed manner. Excellent illustrations throughout the book. Rose's bread making methods often include short sponges. (Personally, I prefer longer fermenting poolishes or bigas.)
Review by jonesjohnson
16/06/2015
If you're tired of your old standby bread recipes, then sure- this will do. Plus it explains why certain things happen that you might not know if you're an unschooled home baker such as myself. But the prose leaves something to be desired. Serviceable as a cookbook, but not as food porn.
Review by ansate
16/06/2015
Have not yet made a recipe from here! I'll try to remember to edit once I have. So just based on skimming through this: I definitely want to try her basic sandwich bread - but I need a 2nd loaf pan. She's wonderfully precise, but that's almost too much for my "flip through, bake something on a whim" style. I'm sure she's totally right that having a long sponge stage improves flavor - but I want bread now! I prefer things that tell me the perfect way to do it, but with the caveat of "but will be ok if you do it this simpler way".It's not the best bread book for me - I don't think I'll need to own a copy. I totally understand that being a perfectionist is how you come up with the best recipes, but it does take some of the fun out of trying to follow them. But if you are a perfectionist and you're willing to track down the right brand of flour, weigh all your ingredients, etc. then I bet you'd love this book.