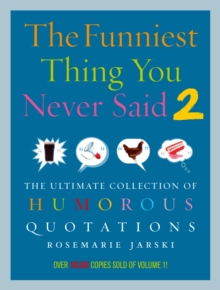 Funniest Thing You Never Said 2
Paperback / softback
Description
The bestselling, blockbusting, bumper book of humorous quotations rides back into town with 6,000 more hilariously funny quotes.
From times past to the modern day, classic funnies to contemporary wit, The Funniest Thing You Never Said 2 delivers an unbeatable selection of fantastic and hilarious quotes on every subject under the sun.
Featuring topics as diverse as celebrity to religion, and including a cast of quotees ranging from Oscar Wilde to Homer Simpson, there's something here for everyone with a sense of humour. 'I am willing to love all mankind, except an American.' - Samuel Johnson'Glastonbury was very wet and muddy.
There was trench foot, dysentery, peaches ... all the Geldof daughters.' - Sean Lock'Politics would be a helluva good business if it weren't for the goddamned people.' - Richard Nixon'I've had more women than most people have noses.' - Steve Martin'I have the simplest tastes.
I'm always satisfied with the best.' - Oscar Wilde 'Well, it's 1am.
Better go home and spend some quality time with the kids.' - Homer Simpson'All I know is I'm not a Marxist.' - Karl Marx'I'm the pink sheep of the family.' - Alexander McQueen
Information
Format:Paperback / softback
Pages:576 pages
Publisher:Ebury Publishing
Publication Date:02/09/2010
Category:
ISBN:9780091924515