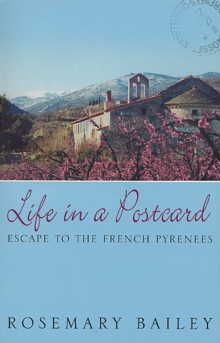 Life in a Postcard
Paperback
Description
'I wake to the sun striking gold on a stone wall. If I lean out of the window I can see Mount Canigou newly iced with snow.
It is wonderful to live in a building with windows all around, to see both sunrise and sunset, to be constantly aware of the passage of the sun and moon.' In 1988, Rosemary Bailey and her husband were travelling in the French Pyrenees when they fell in love with, and subsequently bought, a ruined medieval monastery, surrounded by peach orchards and snow-capped peaks.
Traces of the monks were everywhere, in the frescoed 13th century chapel, the buried crypt, the stone arches of the cloister.
For the next few years the couple visited Corbiac whenever they could, until in 1997, they took the plunge and moved from central London to rural France with their six-year-old son.
Entirely reliant on their earnings as freelance writers, they put their Apple Macs in the room with the fewest leaks and sent Theo to the village school.
With vision and determination they have restored the monastery to its former glory, testing their relationship and resolve to the limit, and finding unexpected inspiration in the place. Life in a Postcard is not just Rosemary Bailey's enthralling account of the challenges of life in a small mountain community, but also a celebration of the rugged beauty of French Catalonia, the pleasures of Catalan cooking, and an exploration of an alternative, often magical world.
Information
Format: Paperback
Pages: 336 pages
Publisher: Transworld Publishers Ltd
Publication Date: 01/04/2002
Category: Travel writing
ISBN: 9780553813418
Free Home Delivery
on all orders
Pick up orders
from local bookshops
Reviews
Showing 1 - 2 of 2 reviews.
Review by Ella_Jill
16/06/2015
The author, who grew up in the suburbs, dreamed of living in the country with cats and children. Her husband, of rural origins, loved living in London and New York, sans cats or kids. She won on all counts. Bailey and her husband, both freelance British writers, bought a ruined monastery in southern French Pyrenees, which featured a seriously leaking roof, crumbling walls, dozens of rat nests, and an army of mice, and converted it into a home in the course of eleven years, as they were raising their son there. I had thought before that Catalans only live in Spain, but it turned out that they live in this part of France too (well, it used to be Spanish till sometime in the 17th century). So the local residents speak Catalan to each other and French (with an accent) to outsiders. In schools the language of instruction is French, but Catalan is also studied, along with Catalan history (the author recounts the story her son told her about the founder of Catalonia called Wilfred the Hairy). However, only about half of the inhabitants are of local origins, the rest having come there from elsewhere in France or the rest of the world, mainly Europe. Many of these people are eccentrics who couldn't fit in in traditional cultures in their native land. By the author's descriptions, the village near their monastery and surrounding hills certainly seem to have a disproportional number of artists and potters. Quite a few of the French settlers there are hippies, called "sixty-eighters" in France, and their descendants, who live off the land, sometimes choosing to settle in abandoned stone shacks in the mountains, without any modern conveniences. Some locals grumble about so many outsiders, but the village wouldn't have survived without them, especially since many of the locals don't live there in winter. So it comes as somewhat of a surprise when the author writes about the locals who do live in their village year-round: "I think for them we were like creatures from another planet. The idea of England was unimaginable to them." She adds about the farmer who was renting their peach orchard that "the story of his fistfight with the neighboring horse farmer is still recounted with great relish. He explained his long-running argument with the mayor of the village over grazing rights for his horses on the mountain pastures. 'We're like a dog and a cat,' Jacques remarked gleefully. It all sounded very medieval to me." By the end of the book Bailey remarks again: "The more we hear the more medieval the village still sounds, with people squabbling over fences and boundaries, fighting in the bar and stealing chickens." I've recently read three other books by Anglophone expats about various European countries which also happen to be about rural areas, but this is the only one that communicates the feeling of the chasm between the author and the local inhabitants. In all the others, the villagers seemed as modern as the newcomers. On the other hand, Bailey can be partial to her new home village too. For instance, she describes London as polluted and dirty, citing it as one of the reasons she chose to leave it, but then she writes that in this Pyrenean village people don't clean up their dogs' poo and chuck old cars and refrigerators into the river where they slowly rust away. Personally, I didn't find London dirty on my visit there; there was certainly no dog poo in the streets or rusting cars and refrigerators in the Thames. One of the few things that raised my eyebrows in this book was one of the author's praises to the region's diversity which described the people at a benefit party thusly: "The mixture of people, to me, was glorious. All ages and several nationalities…. Teetotalers and pot-smokers, fascists and feminists…" I have no idea what she was thinking about when she wrote the last pair. Perhaps, she was getting carried away with her glorious feelings, but I bet she wouldn't have written "child molesters and preschoolers."On the whole, this book contains a bit too much of the author's reconstruction of what life was like there in the past and about her house, at least for someone with my level of interest in other people's property, but there are many interesting details about life in this region, as well as comparisons with Britain which I found interesting.
Review by LyzzyBee
16/06/2015
(26 January 2012 – Oxfam, Stratford)The first of my immense haul of second hand books acquired on a lovely day in Stratford with a dear friend from America, who knew all the tempting bookshops better than I did!Yet another British expatriate book, this time all about developing an abandoned monastery in the French Pyrenees, near enough to Perpignan and Montpellier to be familiar territory of sorts. As a writer by trade, Bailey is able to express her feelings and describe the surrounding landscape and village life beautifully, and she does, but she doesn't shy away from the details of everyday life, the pull of England for her partner, Miles, the way their son, Theo, becomes maybe too integrated into village life, and their wrangles with local farmers. Celebratory of the huge variety of French resident and expats in the area, and a very good example of its genre.