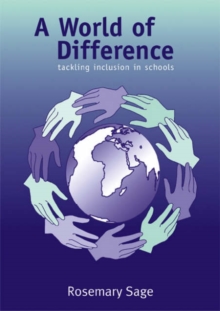 A World of Difference : Tackling Inclusion in Schools
Paperback / softback
Description
We are all different. Every child in every class in every school in the land is different. And yet we have a 'one size fits all' curriculum that everyone must follow.
How can we best deal with this apparent anomaly, in order to provide meaningful learning experiences for all students? Teachers are now discouraged from grouping children according to abilities - inclusion is the buzzword.
So radical solutions are needed to help all children learn within a group, whatever their personal and academic needs, and whatever their social background. This book analyses the issues surrounding the world of difference we see in schools today.
It unpacks the elements of diversity - personality, intelligence, styles of learning and communicating, social class, gender, race, culture, ethnicity, learning difficulties, disabilities, views and values - and suggests practical strategies to make teachers' lives easier and their students' study less stressful. All children need personal skills, particularly communication and co-operation skills, in order to cope with learning within their own context and at their own level. This book considers how such key skills emerge from the interaction of physical, mental, emotional and social development, and suggests initiatives such as 'The Critical Skills Programme' and the 'Communication Opportunity Group Scheme' to give students from every background more chances to talk, think, express feelings and share views. A comprehensive overview of common learning difficulties and medical conditions in children is also provided - including characteristics of each condition, classroom organization tips, and contact details of relevant support groups - with the aim of helping educators further develop their management of individuals and diverse groups. If you have an interest in making education work - whether you are a teacher, teaching assistant, school counsellor, social worker, therapist, psychologist or other educator - 'A World of Difference' is for you.
Information
Format: Paperback / softback
Pages: 192 pages, Illustrations
Publisher: Network Educational Press Ltd
Publication Date: 01/02/2004
Category: Philosophy & theory of education
ISBN: 9781855391307
Free Home Delivery
on all orders
Pick up orders
from local bookshops