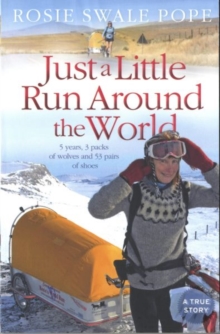 Just a Little Run Around the World : 5 Years, 3 Packs of Wolves and 53 Pairs of Shoes
Paperback
Description
After her husband died of cancer, 57-year-old Rosie set off to run around the world, raising money in memory of the man she loved.
Followed by wolves, knocked down by a bus, confronted by bears, chased by a naked man with a gun and stranded with severe frostbite, Rosie's breathtaking 20,000-mile solo journey is as gripping as it is inspiring. Rosie's solo run around the world started out of sorrow and heartache and a wish to turn something around. Heartbroken when she lost her husband to cancer, Rosie set off from Wales with nothing but a small backpack of food and equipment, and funded by the rent from her little cottage.
So began her epic 5-year journey that would take her 20,000 miles around the world, crossing Europe, Russia, Asia, Alaska, North America, Greenland, Iceland, and back into the UK. On a good day she'd run 30 miles, on a bad day she'd only manage 500 yards, digging herself out of the snow at -62 degrees C, moving her cart inches at a time.
Every inch, every mile, was a triumph, a celebration of life, and 53 pairs of shoes later Rosie arrived home to jubilant crowds in Tenby, Wales. Rosie's incredible story is a mesmerizing page-turner of the run of her life.
It will wake up the sleeping adventurer in you; it will inspire hope, courage and determination in you; but most of all it will convince you to live your life to the full and make every day count.
Information
Format: Paperback
Pages: 336 pages, (1x8pp plates)
Publisher: HarperCollins Publishers
Publication Date: 28/05/2009
ISBN: 9780007306206
Free Home Delivery
on all orders
Pick up orders
from local bookshops
Reviews
Showing 1 - 1 of 1 reviews.
Review by sunnycouger
16/06/2015
This is a true story about a woman who, after her husband dies of cancer decides to run around the world in order to raise awareness of cancer. It's an amazing story, and Rosie is an amazing woman but I think I was expecting to be more involved in her story. I think partially the problem was that the book spans the five year trip and the places she ran were so remote so the snapshots were exactly that and it was difficult to get a real feel for the journey at times. Running in -50, and dealing with Siberia, Alaska and Greenland amongst other places is awe-inspiring, but sometimes I don't think I really got that sense. It's maybe a harsh to judge because she's not a writer, but I almost wish it was a pure diary form where we got more of her emotional experiences, and found out more about the days where she wanted to give up, where the frostbite and the isolation got to her as opposed to the more sanitised 'this is what happened, I felt, I saw...' thing we got sometimes.<br/><br/>Regardless, my awe of the woman throughout the book never wavered. It staggers me that she never gave up, that she completed that journey despite it's length and tribulations. She was 57 when she started her journey, and although she wasn't a newbie at these mammoth feats after sailing the Atlantic single-handedly, it's still, for me, an almost unbelievable feat and although I was disappointed I didn't develop a more emotional connection with the journey, my admiration and awe was definitely something that wasn't ever in doubt.