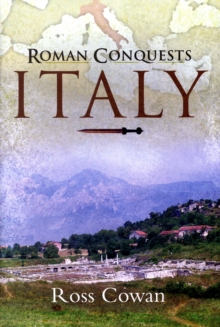 The Roman Conquests: Italy
Hardback
Description
First in an exciting series, charting Rome's bloody road to empireRecounts the desperate struggles for survival of the young Roman republicDescribes how and why Roman Armies eventually beat their Etruscan, Samnite, Celtic and other neighbours to dominate all of ItalyDiscover how the Roman legion fared in its first battles against Hellenistic pike phalanxes and war elephants.For who is so worthless or indolent as not to wish to know by what means...the Romans have succeeded in subjecting nearly the whole inhabited world to their sole government- a thing unique in history? Or who again is there so passionately devoted to other spectacles or studies as to regard anything as of greater moment than the acquisition of this knowledge."POLYBIUS
Information
Format: Hardback
Pages: 192 pages, 8pp B&W Photos
Publisher: Pen & Sword Books Ltd
Publication Date: 16/07/2009
ISBN: 9781844159376
Free Home Delivery
on all orders
Pick up orders
from local bookshops
Reviews
Showing 1 - 2 of 2 reviews.
Review by JGolomb
16/06/2015
In "Roman Conquests: Italy" ancient Roman military historian Ross Cowan provides a detailed accounting of pre-Republican Roman expansion across the Italian peninsula. Emphasizing the importance of this era, Cowan points out that "the famous Caesar would have accomplished nothing if the groundwork in Italy and the creation of a solid base for overseas expansion had not been achieved by the likes of the lesser-known Torquatus, Corvus, Cursor, Rullianus and Dentatus in the fourth and third centuries BC."The book covers about two hundred years of early Roman history. While Cowan acknowledges his principal source is Livy's books I-X, he references numerous other ancient sources as well as revised historical insights based on modern archaeological research. He utilizes his mix of ancient and modern sources to counterbalance Livy's often overly Roman-centric perspective.In 396 BC, Rome conquered the rocky citadel of Veii, just ten miles north of the city, and incorporated it into her territories. Rome was the main hub of trade and communications in west-central Italy. "The city dominated the main crossing point of the Tiber...Rome was nearest to the coast, and the famous seven hills on which the city was built provided excellent points from which to guard the crossing and filter traffic." Furthermore, "she was also agriculturally rich...some of the most fertile land in the peninsula and (able to) support a large population."One of the key military themes throughout this period is based on honor and revenge, which were extremely important to Romans and their enemies and allies. "Nothing motivated the Romans more than the need to avenge a defeat," writes Cowan. In addition to the wholesale slaughter or slavery of defeated enemies, Cowan references prisoners (both Roman and Samnite) who were put under the yoke - "a humiliation worse than death...indicating that a warrior was utterly defeated, little more than a beast, to be used and abused by his conqueror."One of the more fun aspects of "Roman Conquests" is Cowan's cognomen translations. Cognomens started off as nicknames, but after a time became hereditary. Aulus Cornelius Cossus, the "Worm", was only the second Roman, after the legendary Romulus, to kill an enemy king in single combat. Appius Claudius Crassus was "Fat" or "Uncouth". Calvinus was "Bald". Curvus was "Stooped". More noble Corvus was the "Raven", Venox the "Hunter", and Cursor the "Swift Runner" who should not be confused with Lentulus the "Slow".Some of the more colorful characters gained their equally colorful names from their brave actions. One military tribune accepted a challenge of single combat from an enemy Gaul. He defeated the challenger and promptly cut off his head, "tore off his torque and put it, covered as it was with blood, around his own neck." Not surprisingly, he and his ancestors adopted the cognomen of Torquatus. Quintus Servilius Ahala "achieved" his cognomen, "Armpit", when, in 439 BC, an ancestor concealed a dagger under his arm and used it to assassinate an aspiring plebian tyrant.Cowan acknowledges that the relative dearth of detailed sources from this period lends to rather one-dimensional characterizations of key players. Fortunately, Pyrrhus of Epirus, king of the Molossians, descendant of Achilles, wrote his memoirs which help flesh out this charismatic figure. Cowan maximizes his opportunity to build out this enemy of Rome and dedicates almost 50 pages to his story.The book includes seven detailed maps and eight pages of photos and drawings, including 4 beautifully rendered paintings from well-known ancient military artist Graham Sumner. One frustration, though, is the lack of a timeline and, perhaps, dramatis personae - both of which would have helped limit confusion when Cowan bounces back and forth between dates and the large cast of historical characters.Excluding the notes, bibliography and index, "Roman Conquests: Italy" is a tight 147 pages. The book is a solid mix of high quality academic research with enough narrative to please those with a more passing interest in this key period of Roman history.
Review by Luftwaffe_Flak
16/06/2015
Absolutely excellent book on how Rome came to conquer the whole of the Italian peninsula. One thing I truly loved about this book was the author when introducing a new Roman name always included what the cognonem meant. Had never run into that before and it impressed me.