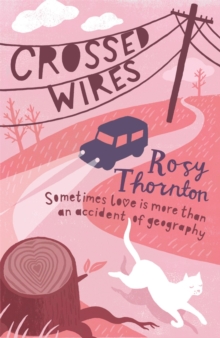 Description
This is the story of Mina, a girl at a Sheffield call centre whose next customer in the queue is Peter, a Cambridge geography don who has crashed his car into a tree stump when swerving to avoid a cat.
Despite their obvious differences, they've got a lot in common - both single, both parents, both looking for love.
Could it be that they've just found it? CROSSED WIRES is an old-fashioned fairy tale. It is about the small joys and tribulations of parenthood; about one-ness and two-ness; about symmetry and coincidence; about the things that separate us and the things that bring us together.
Information
Format: Paperback
Pages: 352 pages
Publisher: Headline Publishing Group
Publication Date: 02/04/2009
ISBN: 9780755345557
Free Home Delivery
on all orders
Pick up orders
from local bookshops
Reviews
Showing 1 - 5 of 5 reviews.
Review by maribs
16/06/2015
This is the story of Peter, a geography professor in Cambridge and Mina, the insurance agent in Sheffield that handles his claims. They discover a connection between each other that is unexpected that leads to friendship and companionship over the phone with hopes that it will develop into something more.I am so glad I agreed to read this book. My first by Rosy Thornton but will definitely not be my last. It is such a sweet, quiet romance between two single parents who have never met but over the phone. I loved how I got sucked into their separate lives and families. I got to see how the simple act of talking to someone over the phone can lead you to discover a second chance for love. ( I hate talking on the phone)
Review by whitreidtan
16/06/2015
When I first read the description of this book, it sounded very much like a girl meets boy and they fall in love sort of book, albeit through the modern convenience of telephones. Not that I have any problem with girl meets boy and they fall in love. I read quite a few books where this is indeed the basic plot. But this is only the plot here in the very strictest of senses. What Thornton has done instead, is to write a lovely, delightful novel focused more on the journey than on the presumed outcome. And that was a happy surprise.Mina is a single mom who works at a insurance company's call center. Her younger sister, who is still a teenager, lives with her since their mother move out and in with her boyfriend several years ago. Mina's daughter is an avid bookworm who is struggling with her peers. They are all sort of treading water in their own lives and while Mina is trying to be the best mother and sister she can be, she is a bit overwhelmed.Peter is a widowed Cambridge geography professor with two young daughters. He has a pretty good, strong network of friends but he's still lonely and as the only parent, a bit at a loss when it comes to shepherding his twins through some of the inevitabilities of childhood.When Peter crashes his car into a tree stump, Mina is the one who fields his insurance call. For each of them, there's something different about the person on the other end of the telephone and when Peter has a second accident, he specifically asks for Mina to handle his claim. She copies down his number and follows up his call center call with a call of her own. And a warm, supportive telephone friendship springs up. They use each other as sounding boards for whatever is going on with their children, with Mina's sister, and so much more. Their conversations offer them a sense of belonging, the chance to help and be helped, and to add a bit of spark to someone elses' day. Could they, after all they share, be just what each needs in life?I expected the phone relationship to be a much smaller part of the story than it is. Peter and mina's relationship is unhurried, mature, and wide-ranging. And while it doesn't always go smoothly, it is a deeply felt, well-imagined, truthful relationship like we should all have with the dear friends and loved ones in our lives. Thornton has created two characters who are as human as characters can be. They are comfortable and easy and the sorts of people I'd love as friends. And once I realized that this was not a novel in a rush to have the characters meet and become a couple, I abandoned myself to the slow and pleasing pace. The plot ambles along, drawing the reader in as both the everyday and the out of the ordinary punctuate Peter and Mina's lives. There is just enough conflict to keep the novel from becoming too treacly but still stay true to the characters as they are drawn. The final climax is well-timed and leaves the reader fairly certain of and contented by the knowledge of what happens after the last page is turned.Crossed Wires is original and charming, well-written and captivating, deeply-felt and sincere. The echoes of the numbers one and two, both in Peter and Mina's single-parenthood but also in the people of Mina's daughter and Peter's twins, resonate and challenge the reader to consider notions paired and alone. I thoroughly enjoyed all of it and will definitely be searching out more of Ms. Thornton's work in hopes of capturing the magic she's offered in this novel.
Review by jcmontgomery
16/06/2015
I know you've heard that saying, "Don't judge a book by its cover." This is a book that epitomizes this statement. All societies are made up of social structures. In Britain, it isn't as much money (such as it is in the States) as it is one's accent, vocabulary, manners, etc. Thus when a Cambridge University professor comes to meet a woman whom he assumes is not only of another ethnicity, but of "social" class, the fact that a relationship begins to grow between them is something to note.This also comes to play in the novel when Peter's daughters become friends with a family of travelers who are sometimes called gypsies. Of course this is lost on Peter who is extremely naive when it comes to the darker aspects of prejudice. Not that he is immune to them as is evidenced by an awkward phone conversation with Mina when it comes out he thought she was Indian because of her name.In another incident, Peter comes face to face with preconceptions when there is an incident that results in the harassment of the travelers to the point of them deciding to move on and away from the growing hostility. Peter understands that it is due to prejudice, but is shocked at its appearance in his village. For a smart man, there are many things he still needs to learn.It is this aspect of his personality, and Mina's own struggles with not seeing things clearly in her own life, that brings the reader closer to each character. Neither of them are perfect, have ongoing problems, and see in each other someone who understands – regardless of their social or financial status.Thus even though this book is geared toward a British audience, any reader will be able to identify with Thornton's story and characters.I would say the best statement that can be made about this book is that it is indeed about "coincidence" and "the things that separate us and the things that bring us together". This is evident not only in the growing relationship between Peter and Mina, but between siblings, parents and their children, between friends.This is what surprised me the most about this book. In a good way. From what you read on the jacket, you would think the story was only about Peter and Mina, but much of the book is about what happens around their growing friendship. And if any of you are single parents of nine or ten year olds (twins in Peter's case), this is very realistic.Another thing that was a pleasant difference is that I had to really think about those things that would be a detraction for a reader. Other than warning American readers that there will be terms and vernacular they are unfamiliar with, I can only come up with the shifting points of view within the story. However, each time it switches to Mina or Peter, there is a clear break in the narrative.All in all, I have to say, that this book has left me with a very favorable impression of the writer and I'm hoping I can find her other books locally or order them. In addition, I hadn't thought much of the romance genre as a whole. But if there are more like this story, and this writer, I will be changing my tune willingly and completely!I am giving this 4 stars out of 5. I can't say it is one that will have you on the edge of your seat, or will keep you up at night reading, but it will be something you will have trouble putting down and eager to pick it back up
Review by BookfanMary
16/06/2015
Crossed Wires is a quiet story of people who are not that different from you and me. They've endured sorrows and have experienced joy. They not only survive their sorrows but seem to strive to find joy in everyday life. Not in big ways, but in the small things. It reminded me of how just being a friend can mean the world to someone. If you're looking for something a little different and uplifting, Crossed Wires could be the book for you. I'm so glad it "found" me.
Review by SueinCyprus
02/03/2016
'Crossed Wires' is a light and gentle character-based story featuring two main people. Mina, who's in her twenties, works in an auto insurance call centre in Sheffield. Peter, who's around forty, is a lecturer in Cambridge. Both are single parents - Mina to a shy ten-year-old bookworm called Sal; Peter to identical nine-year-old twins called Kim and Cassie. But that's about all they have in common until they 'meet' by phone... <br/><br/>The story is told alternately from Mina's and Peter's points of view, charting their lives as they struggle with day-to-day problems. I found most of the characters likeable, even if one or two were a bit caricatured. I thought the three girls were well-drawn and believable, and enjoyed their interactions with their parents and others. <br/><br/>It's a gentle book, but there's some drama in the middle of the book, and various crises; I found it quite hard to put down during the latter half. I felt that one or two threads weren't really resolved at the end even though the conclusion is hopeful and mostly satisfying. <br/><br/>Recommended if you want a pleasant, undemanding read.