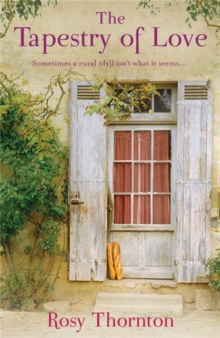 The Tapestry of Love
Paperback
Description
A warm and uplifting story of how a woman falls in love with a place and its people: a landscape, a community and a fragile way of life.
A rural idyll: that's what Catherine is seeking when she sells her house in England and moves to a tiny hamlet in the Cevennes mountains.
With her divorce in the past and her children grown, she is free to make a new start, and her dream is to set up in business as a seamstress.
But this is a harsh and lonely place when you're no longer just here on holiday.
There is French bureaucracy to contend with, not to mention the mountain weather, and the reserve of her neighbours, including the intriguing Patrick Castagnol. And that's before the arrival of Catherine's sister, Bryony...
Information
Format: Paperback
Pages: 416 pages
Publisher: Headline Publishing Group
Publication Date: 14/10/2010
ISBN: 9780755345571
Free Home Delivery
on all orders
Pick up orders
from local bookshops
Reviews
Showing 1 - 5 of 14 reviews.
Previous | Next
Review by coffeeandabookchick
16/06/2015
Perhaps it was the beauty of the mountain and trees in a small town in France that pulled me in. Or maybe it was Catherine Parkstone, a divorced woman from England who decides to move to the small town that got me. And then there was also the feel of the needle that I felt in my hands as Catherine works on tapestries and divans and builds her little business in France.What an extremely nice and pleasant read I had, walking along through the world of Rosy Thornton's story, The Tapestry of Love. Catherine Parkstone has left her life in England and moved to France, to start anew and set herself up in a small business as a seamstress. Her children are fully grown, and Catherine knows that the time is now to find her place in life, her true place.You're not from here... Says the man on the road in the middle of the storm to Catherine...but she is valiantly taking one step after another. She encounters quite a bit in her new home and town, with her eccentric neighbors (oh, how I adored Monsier and Madame Bouschet!), and her attempts to understand the requirements of setting up a home based business in France are quite endearing. Her daughter is a free-spirited writer, her son is a quiet scientist, and her sister Bryony is a top-notch partner at a law firm, and each of them are part of her lives either by visiting or calling her (which even the phone system is one that Catherine has a bit of interest in trying to figure out in the quiet French country). And as Catherine attempts to live her life by a specific routine, her neighbor Patrick has entered and has placed a slight bit of anticipation and question in her life. When Bryony comes to visit, it certainly throws things for a bit of a loop.This story is about life, relationships, and finding your own place amongst it all, and being able to find it even a bit later in life. You are on your own, your children are grown -- there is no more obligation other than to yourself. Your identity is one to now make separate of everything else, without anyone else "taking care of things." It is now up to you, and in this story, it is now Catherine's choices all on her own. Catherine is a lovable character and there were moments when my heart broke for her as I felt for her quiet strength as she interacted with her family and especially as she dealt with her loving, yet goal-oriented sister. I enjoyed the images of the rolling countryside of the South of France that went through my mind and I eagerly hopped onto the Internet to Google Le Cevennes. This was my first Rosy Thornton novel, and I shan't expect it to be my last.Happy Reading!Coffee and a Book Chick
Review by blodeuedd
16/06/2015
This book was a pleasant read. I think I am gonna go in for a description now. It was like sitting on the porch, drinking wine (well juice for me), seeing the sun set on a warm summer evening, perhaps reading a book. Everything very pleasant and relaxing. That is what this book is to me.It's the story about Catherine, a woman of 49 who leaves England. Her kids have grown up, she is divorced and she wants something else. So she buys a cottage in France, and wants to make a living there. But French bureaucracy is not that kind to her, but at least she makes some good friends among her neighbours. But then her sister shows up, and then there is this man...I liked Catherine, to just leave everything behind and start anew, I could not do it. All alone up on a mountain. But she makes it work.There neighbours are good secondary characters. The elderly woman whom Catherine drives to places, the couple further down the road, and then there is Patrick. The woodsman not far from her. There is this quite chemistry between them. They become good friends, but no one makes a move. I am not going to give anything away though. Some things needs time. You can't rush love.Sure, not much happen, but at the same time so much happen. There is her dealings with her children, the neighbour, getting to know Patrick, and quite drama when her pretty sister shows up. There is the dealings with wanting to set up a business in a protected area, and seeing a village living on the edge. Kids don't want to become farmers, and how can then rural areas prosper?It was a good story that kept me reading, there was a lightness to it, and humour between the lines. It's a book that make you smile.Final thoughts: I liked this book,it was yes pleasant, I honestly can't come up with something else to describe reading it.
Review by miyurose
16/06/2015
I thought this was a really nice story. Catherine is an older woman embarking on an adventure. She picks up her life and moves it from England to a rural part of France, a national park, where the roads are narrow, the mountains are high, the houses are few and far between, and the sheep are plentiful. She makes an interesting character — bold in some ways, timid in others, and oftentimes too stubborn for her own good. Especially where her neighbor, the friendly but private Patrick Castagnol, is concerned. Catherine also likes to put her head in the sand from time to time, and we all know that never leads to good things.I really enjoyed Catherine's supporting cast, especially her other neighbors, Monsieur and Madame Bouschet. They really made the novel come alive for me, because they're the type of neighbors we all wish we had.Overall, this was a great read, with a believable storyline and an ending that is happy without being overdone. Between the people and the scenery, there's a lot to love.
Review by nbmars
16/06/2015
Forty-eight year old divorcee Catherine Parkstone sells her house in England and moves to a very isolated spot in the middle of a National Park in the Cévennes mountains in France. Her plan is to work on tapestries and other needlework and perhaps open a business for those who need drapes, upholstery, curtains and the like. Catherine becomes friends with her neighbors, including a reclusive and fascinating man that speaks perfect English, Patrick Castagnol. She finds herself attracted to him, but puts all that aside when her younger sister Bryony comes to visit and has an affair with him. [Thinking also of the infamous Briony of <em>Atonement</em>, I'm starting to get the idea that it's not such a great idea in the U.K. to have a younger sister by that name.]The sororal interregnum aside, there is never any doubt what the outcome of this book will be. And while we wait for the inevitable, Thornton shares her love affair with us of the Cévennes, in all of its manifestations in each season and each change of light, and of her desire to capture its beauty in her art:"Over the last few weeks, since perhaps the middle of April, Catherine had watched the mountain pastures explode with life. This was turf which had never known the application of a chemical, and although there were grasses here, they were no more than a canvas on which were splashed a profusion of other colours: purple scabious and yellow gentian and lungwort speckled blue and pink, and many other wild flowers which Catherine could not identify. And butterflies: the whole surface of the pasture in the afternoon sunshine danced and bobbed with butterflies, white and yellow and brown, and tiny ones of a startling blue. Catherine half closed her eyelids and saw it in silks."There are many such descriptions of the surroundings in this book.<strong>Evaluation:</strong> Like her previous book, <em>Crossed Wires</em>, there are suggestions of "Sleepless in Seattle," but this book is not only about a love affair with a person; it is also - and perhaps more so - about the love the character develops for the setting, and the simple, sincere, and good-hearted souls who populate the small mountain area. When she first arrives, one of the residents looks at her and says, "You're not from here." By the end of the book, she has become barely distinguishable from the others. The tapestry she weaves of the view she sees out her window is truly a tapestry of love.
Review by iubookgirl
16/06/2015
Catherine Parkstone is a 40-something, English divorcee whose children have flown the nest. Determined to chart a new course for herself, Catherine sells her house outside London and buys another in the south of France. The reader meets her as she drives through a flock of sheep on her way to her new home immediately setting the stage for Catherine's new rural life.The reader witnesses Catherine becoming a part of this small, tight-knit French community. Her neighbors form a charming cast of characters and so do her family. Catherine's children and sister are introduced along the way through phone calls and visits. I particularly liked her irrepressible daughter, Lexie. I smiled along with Catherine each time she entered the story.Catherine's new life has its ups and downs of course. There is the French bureaucracy to contend with in her attempts to set up a business. There is sorrow and loss. There is loneliness. There is the mysterious neighbor, Patrick Castagnol. All in all, this is a charming story of a woman on a mission to build a life of her own. A quote from the Guardian on the back cover really says it all. Thornton "is skilled at drawing out the poignancy of ordinary life."I happen to enjoy stories of people uprooting their lives to start anew in foreign places. I'm always a bit awed by the courage it takes to do such a thing. The fabulous setting of France is also a plus in my book. If you enjoy this sort of story, I'm sure you'll enjoy The Tapestry of Love.