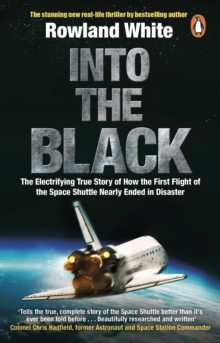 Into the Black : The electrifying true story of how the first flight of the Space Shuttle nearly ended in disaster
Paperback / softback
Description
On 12th April 1981 a revolutionary new spacecraft blasted off from Florida on her maiden flight. NASA's Space Shuttle Columbia was the most advanced flying machine ever built - the high watermark of post-war aviation development. A direct descendant of the record-breaking X-planes the likes of which Chuck Yeager had tested in the skies over the Mojave Desert, Columbia was a winged rocket plane, the size of an airliner, capable of flying to space and back before being made ready to fly again. She was the world's first real spaceship. On board were men with the Right Stuff. The Shuttle's Commander, moonwalker John Young, was already a veteran of five spaceflights. Alongside him, Pilot Bob Crippen was making his first, but Crip, taken in by the space agency after the cancellation of a top secret military space station programme in 1969, had worked on the Shuttle's development for a decade. Never before had a crew been so well prepared for their mission. Yet less than an hour after Young and Crippen's spectacular departure from the Cape it was clear that all was not well. Tiles designed to protect Columbia from the blowtorch burn of re-entry were missing from the heatshield. If the damage to their ship was too great the astronauts would be unable to return safely to earth.
But neither they nor mission control possessed any way of knowing.
Instead, NASA turned to the National Reconnaissance Office, a spy agency hidden deep inside the Pentagon whose very existence was classified. To help, the NRO would attempt something that had never been done before. Success would require skill, pinpoint timing and luck ... Drawing on brand new interviews with astronauts and engineers, archive material and newly declassified documents, Rowland White, bestselling author of Vulcan 607, has pieced together the dramatic untold story of the mission for the first time. Into the Black is a thrilling race against time; a gripping high stakes cold-war story, and a celebration of a beyond the state-of-the-art machine that, hailed as one of the seven new wonders of the world, rekindled our passion for spaceflight. *With a foreword by Astronaut Richard Truly*'Beautifully researched and written, Into the Black tells the true, complete story of the Space Shuttle better than it's ever been told before.' Colonel Chris Hadfield, former Astronaut and Space Station Commander'Brilliantly revealed, Into the Black is the finely tuned true story of the first flight of the Space Shuttle Columbia. Rowland White has magnificently laid bare the unknown dangers and unseen hazards of that first mission ...
Once read, not forgotten.'Clive Cussler
Information
Format: Paperback / softback
Pages: 640 pages
Publisher: Transworld Publishers Ltd
Publication Date: 04/05/2017
Category: General & world history
ISBN: 9780552160223
Other Formats
EPUB from £1.99
eAudiobook MP3 from £9.60
Free Home Delivery
on all orders
Pick up orders
from local bookshops