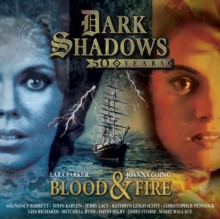 Dark Shadows - Blood & Fire
CD-Audio
Description
A two-hour adventure celebrating 50 years of Dark Shadows! "Some are born with magic, some acquire magic, and others have magic thrust upon them." The year is 1767 and young widow Laura Murdoch Stockbridge is to marry Joshua Collins, heir to the Collins fortune.
Meanwhile, Joshua's sister Abigail is in love with disreputable sailor Abraham Harkaway. But the course of true love never did run smooth, especially when the witch Angelique Bouchard is around. For Angelique has been sent back in time and she has one mission - to destroy the Collins family forever. Featuring cast from the original television series, Blood and Fire is a special audio drama to celebrate the 50th Anniversary of Dark Shadows with specially composed music and cinematic sound design.
Dark Shadows at Big Finish covers a popular range of 50 individual stories, two special four-story seasons, and the acclaimed Dark Shadows - Bloodlust serial series, released twice-weekly over seven weeks in 2015.
The original American TV series has been a cult hit for decades, and consists of over 1200 episodes, and a Tim Burton film in 2012 with Johnny Depp and Helena Bonham Carter.Recorded in the US and UK, the Big Finish Dark Shadows range use significant casts to tell a wide range of stories. CAST: Lara Parker (Angelique Bouchard), Kathryn Leigh Scott (Patience Collins), Mitchell Ryan (Caleb Collins), Andrew Collins (Joshua Collins), Daisy Torme (Abigail Collins), James Storm (Abraham Harkaway) and Jerry Lacy (Malachi Sands) with John Karlen (Alfred Loomis), Lisa Richards (Euphemia Spencer Stockbridge) & Christopher Pennock (Uriah Spencer Stockbridge).
Information
Format:CD-Audio
Publisher:Big Finish Productions Ltd
Publication Date:31/07/2016
Category:
ISBN:9781785753305