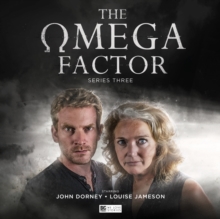 The Omega Factor - Series 3
CD-Audio
Description
Four brand new adventures of chilling supernatural encounters for Dr Anne Reynolds and Adam Dean. 3.1 Under Glass by Roy Gill. Adam is moving on with his life, but a new relationship tests him in unexpected ways.
Anne's dealings with a gallery lead her to a macabre exhibit and its owner's even more macabre fate.
Meanwhile, Morag tries desperately to send a warning...Ambition has a price, and what is trapped will not stay trapped forever... 3.2 Let Us Play by Natasha Gerson. Anne is called by an old acquaintance at Glasgow University, concerned about student welfare.
An online developer is employing young people to work on new apps, but their screen-time is having disturbing side-effects.
Soon, Adam is caught in a deadly and addictive game.
One where the unwary player has much more to lose than a life. 3.3 Phantom Pregnancy by Louise Jameson. Doyle presents Anne with a psychic prodigy and takes a special interest in her progress.
But Adhara is a vulnerable young woman, far from home, and Adam has concerns over Department 7's duty of care.
As Adhara's condition becomes apparent, Adam's health declines.
Only Morag knows the true connection - can she reach out and save her friend? 3.4 Drawn to the Dark by Phil Mulryne. Something is buried under Edinburgh's streets. A dangerous legacy, centuries old. Anne tries to protect the innocents, while Morag and Adam sense a darkness, long-imprisoned, on the verge of release.
But they are not the only ones to feel it. Drexel has returned, and he plans to rise up more powerful than ever before.
The continuation of the cult 1970s series, The Omega Factor - Series 1 was one of Big Finish's best critical hits in 2015, with reviews praising the chilling storytelling and sound-design.
Star Louise Jameson is most familiar to a generation of TV watchers as the Fourth Doctor's companion Leela in 1970s Doctor Who, opposite Tom Baker.
Other TV roles include Eastenders and Bergerac. From a writers' perspective, Louise has written work for stage and also Big Finish productions, also contributing this set's Phantom Pregnancy.
Her co-star John Dorney is one of Big Finish's most prolific and award-winning writers.
Natasha Gerson is the daughter of Jack Gerson, the creator of The Omega Factor for BBC Television.
Information
Format:CD-Audio
Publisher:Big Finish Productions Ltd
Publication Date:30/04/2018
Category:
ISBN:9781787034914